Kim Kardashian 'Cried For Months' Over Kris Humphries Divorce, Scott Surprises Kourtney In Miami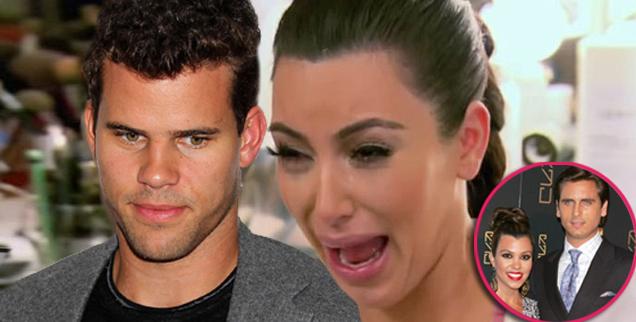 Miami, the Kardashians are here…again!
On the season premiere of Kourtney & Kim Take Miami, Kim Kardashian's divorce from Kris Humphries was taking a toll on her as she began her relationship with Kanye West, and RadarOnline.com has the recap.
"It's something that should be over and done with. Unfortunately, it's not that easy," Kim said on Sunday night's premiere. "The judge said we will be divorced in 2013."
Article continues below advertisement
But her sister Khloe, for one, didn't understand how her sister was keeping it together.
"He's suing her for an annulment," Khloe said.
"The only way to legally get an annulment is if there's some type of fraud involved. So Kris said Kim defrauded him to marry her for press."
Khloe questioned, "If you wanted to marry someone that was just for press, wouldn't you have picked someone who was actually popular?"
Kim, however, was annoyed that everyone around her seemed to be talking about her divorce.
"When I walk in on Khloe talking about my divorce, it annoys me," Kim confessed. "If I wanted to talk about it, I would talk about it with them. I just want to move on."
Kim continued, "I have cried about this for months and months, and at some point I have to let it go. I have no choice or I'm going to be a miserable, negative person."
Article continues below advertisement
Khloe agreed to stop talking about the divorce on one condition…that Kim released her aggression by smashing glass plates on the floor.
"Silly as it may seem, it feels kind of good to break those dishes," Kim said.
Kanye didn't make his highly anticipated appearance on the show yet because he was in Hawaii filming a new album, but his relationship with Kim was in full swing and he even showered her with presents.
"Kanye and I have been together for months," Kim said. "He says that he's sending me a gift to keep me company. I have no idea what that means."
She didn't have to wait long before there was a delivery of a pink crate with a white kitten inside - that she would come to name Mercy.
"I've always wanted a little baby white, fluffy Persian kitten," Kim said "I can't believe Kanye surprised me with the cutest little baby ever."
Article continues below advertisement
Sadly, Mercy died last November of a fatal virus.
Meanwhile, Kourtney was reluctant to have her boyfriend and baby daddy Scott Disick join her in Miami because she was worried that he would go back to his old partying ways instead of spending time with her and their kids.
"Every time he goes to New York or comes to Miami, he just can't control his going out," Kourtney said. "Miami has definitely been a dark place in mine and Scott's relationship. I'm going to be super busy with the store, and I cannot deal with that again."
But Kim and Khloe disagreed with and felt that Scott really needed to be there to help Kourtney with their two little kids so they called Scott and convinced him to fly to Miami.
"I think she won't admit that she's overwhelmed," Kim said. "So if Kourtney's too stubborn to let him know, Khloe and I definitely aren't shy."
However, Kourtney wasn't as happy to see Scott as everyone had hoped.
"Scott walks through the door and I'm appalled," Kourtney said.
Article continues below advertisement
"I don't even know how to respond. Last time we were in Miami, he went out every night until all hours of the night. That's what I do not need in my life right now."
And Scott proved he was on his best behavior after a trip for pizza with Kim and Khloe turned into a late-night event.
"They start out by saying they just want to get some pizza, and now they want to start shopping in the middle of the night," Scott said.
"They're acting like two schoolgirls that just got drink at prom. I just want to get back to my kids, get into bed, and go to sleep."
The next day when Kourtney found out that Scott had left the hotel the night before she was upset, but calmed down when Khloe explained what happened.
"Maybe if I gave him more credit then he would be more responsible," Kourtney said.
Tune in Monday, January 21, at 9 p.m. / 8 p.m. CT for the second half of the two-part premiere of Kourtney & Kim Take Miami on E!