Kim Kardashian Claims Baby Won't Be On TV: 'We're Going To Try To Keep It As Private As Possible'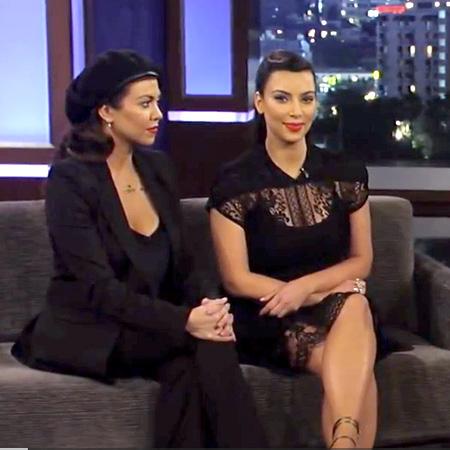 From weddings to break-ups, the Kardashian family makes big bucks sharing their lives in front of the cameras, but don't expect to see Kim and Kanye West's baby on the boob tube after Kim gives birth this summer – or so she claims.
"The baby is not going to be on our show," Kim said on Tuesday night's edition of Jimmy Kimmel Live, where she appeared alongside sister Kourtney. "When he or she decides that's what they want to do, then that will be a decision."
Article continues below advertisement
The 32-year-old mom-to-be continued, "It's a tough decision … from the start, as of now, that's just a personal choice that Kanye and I have made… we're going to try to keep it as private as possible."
When Jimmy jokingly asked Kim if the baby wants to release his own fragrance, she quipped, "If that's what (the baby) wants to do, I will support it."
Kim said one of her favorite parts of Kourtney and Kim Take Miami is when Kourtney's kids Mason and Penelope are onscreen.
"Mason is the highlight of our show, I think," said Kim, who added she'll find out the baby's gender next month.
Kourtney, 33, said that while it's a struggle to have her children on camera, "A lot of the times I feel like, them being with their mom is the best thing."
Jimmy wrapped up the appearance with a great bit, holding Kim a baby shower, where they sipped virgin mimosas and he gave her a "big book of baby names that start with K."
Fun fact: Kourtney, with the help of trainer Tracy Anderson, shed 44 pounds after giving birth to daughter Penelope in July 2012.
Watch the video on RadarOnline.com
Kourtney and Kim Take Miami returns on E! Sunday at 9/8c.
youtube