Baby Mama Bling! Kim Kardashian Flaunts Over $200K Worth Of Jewels From Kanye West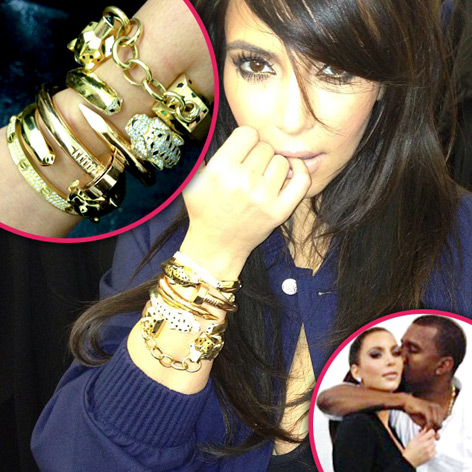 So much for the simple things in life!
Kim Kardashian, who declared on The View in 2012 that her split with Kris Humphries changed her and forced her to focus on the "simple things" in life, took to her Instagram account to flaunt some majorly expensive designer bling from her boyfriend Kanye West, and RadarOnline.com has the details.
Kim, who is no stranger to the luxe life, showed off a wrist full of Cartier bling, valued into the $200,000's.
Article continues below advertisement
"The Don strikes again!!! #SoLucky!!!!!," she captioned the image of her five impossibly expensive bracelets.
For example, the Juste Un Clou nail bracelet in the middle alone retails for $34,650, while her Love Bracelet (far left) covered in diamondscosts a staggering $37,700. Her Panthere De Cartier (second from right) is so expensive, that the luxury jeweler only reveals the price on request, while her chunky, chain piece on the far right costs a cool $70,100.
"I'm such a different person today," Kim expressed to the ladies of The View about how her split with the NBA star changed her. "I care more about the simple things.
"You really figure out what's important in life. I value time more. Staying at home, doing nothing, cooking in. It's not all about the glitz and glamour of a relationship."
Kim and Kanye have been making the rounds in Paris, where they are in town for the ultra glam Paris Fashion Week.