Kim Kardashian Calls Out Her Haters; Jokes About Baby Names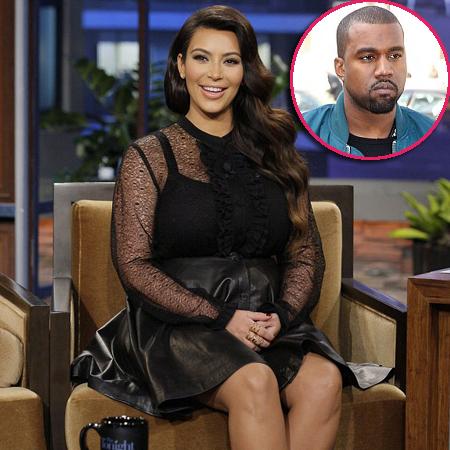 Kim Kardashian, appearing on The Tonight Show Thursday, called out her haters, joked about baby names and had host Jay Leno squirming uncomfortably, and we've got a full recap of her appearance for you right here on RadarOnline.com.
The pop culture superstar, who's pregnant with Kanye West's child, decried the media backlash about her continuing to indulge in sexy fashions well into her pregnancy, as well as the weight she's put on in the process.
Article continues below advertisement
"I think it's a little bully-ish to call a pregnant woman fat," the 32-year-old told Leno. "I mean what do you expect? I hope I gain weight. I'm a little heavy."
"I think it's kind of mean, just all the comments that I see, whether it's, 'She's wearing heels!' ... that makes me feel good and sexy at least being heavier, so if that makes me feel good, my baby will feel good."
The socialite, estimating she's gained about 25 pounds, told Leno "there's just more to love right now.
"I have the rest of my life to be skinny and to lose weight and I'm not really worrying about it," Kim said. "If I have a craving I'll go for it."
Jay asked Kim if she and Kanye would be following in the family's time-honored tradition of giving their child a name beginning with the letter K.
"We have a list and some of them are 'K names,' some of them aren't," she said, at which point Jay suggested the name North, to complement Kanye's last name, West.
Article continues below advertisement
She told him that while North is not on the list, she likes the name Easton -- as in "Easton West."
"I think that's cute," she said.
Watch the video on RadarOnline.com
youtube
Kim, who plugged her upcoming takeover of Chelsea Handler's show, made Jay squirm after he asked her if she's going to keep to her earlier statement that she wouldn't be appearing on any of the family's shows.
"I said they asked what I would do after my contact is up," she said, "and I actually put in an application for your job -- I'm hoping to take over your job!"
The Tonight Show airs weeknights at 11:35/10:35c.
youtube