Kim Kardashian Blasts Her Maternity Fashion Haters, Cops To Wearing 'Pregnancy Spanx!'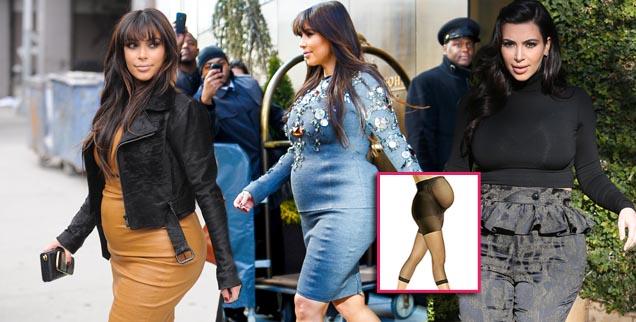 Kim Kardashian does not think that her maternity clothes are too tight, but just in case she takes a little added measure in the form of body shapewear!
The 32-year-old reality star, whose pregnancy fashion hasn't exactly been welcome to warm reviews by the media, blasted back at her haters on her blog this week, declaring it "ridiculous" that people think her maternity styles are too snug and reassuring everyone that she keeps her curves under control curves with pregnancy Spanx – and RadarOnline.com has the details.
Article continues below advertisement
Kim, discussing one of her favorite recent looksthat consisted of a super tight leather pencil skirt, a white sleeveless blouse and Christian Louboutin heels, was shocked when her fans commented that the ensemble was too tight.
"I felt so good in this look. So me! But then I saw some comments that were so critical! It's funny because Kourtney warned me that when I get pregnant people's opinions will be on an all time high and everyone will chime in! So I now see what she means," Kim blogged.
"I saw some comments that the skirt is too tight for the pregnancy and that's ridiculous! I bought this skirt a few sizes bigger and there is plenty of room."
And how does Kim keep her curves under control? She wears shape wear underneath her "custom fit" designer duds.
"For any concern that my clothes are too tight, I have so many pieces custom fit for my growing body! They make pregnancy Spanx which are tight. So this theory sounds ridiculous! I feel my best when I am in heels and chic clothes!"
Unlike her "maternity dresses," which usually retail in the thousands, pregnancy Spanx are a bargain for Kim at only $28!