Kim Kardashian Calls Pregnancy A 'Pleasant Surprise,' Admits To Fertility Issues, In 'No Rush' To Marry Kanye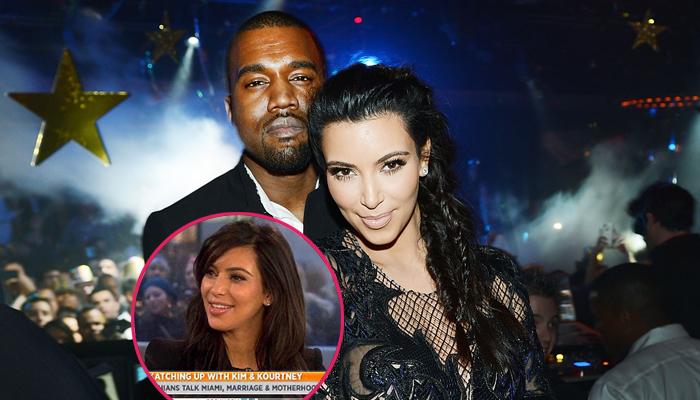 Kim Kardashian says her pregnancy came as a "pleasant surprise" because she has experienced fertility problems in the past, but unlike her sister Khloe, she hasn't talked about it publicly – until now.
Kardashian – appearing with her sister Kourtney on Tuesday's TODAY show to promote the new season of their E! reality show, Kourtney & Kim Take Miami, also said she's in "no rush" to marry Kanye West, the father of her unborn child with whom she recently purchased a multi-million dollar mansion.
Article continues below advertisement
In speaking with TODAY's Savannah Guthrie, Kardashian, 32, talked about her struggle with fertility.
"Khloe has been very open about her fertility issues and I think I was always really kind of quiet about mine, and I have similar issues, and so it was a pleasant surprise when so many doctors were telling me one thing and then the opposite happens," she said. "That's an exciting moment, you can plan for things like that. So I think it's just such a blessing knowing my circumstances."
Kim said she's due in July, which might make her firstborn's birthday coincide with her sister Kourtney's little girl, Penelope, who was born last summer.
As for her infamous 72-day marriage – (remember, she's STILL married to NBA player Kris Humphries) – Guthrie asked her about the delay in making the divorce final.
"I can't speak for anyone else (about why Kris hasn't signed)," said Kim. "It's a process ... It's happening, hopefully."
Article continues below advertisement
Kim – who's been separated from Humphries for more than a year - indicated that she will be divorced in 2013.
So with a baby on the way – and a divorce seemingly imminent – will she be walking down the aisle with the hip hop superstar?
"It's something that we talk about, but I think it's just right now (we're) focusing on the baby," said Kim. "What I've learned in life is -- I was always such a planner, and ... you think your life is going to be a certain way, and the best surprises just happen when you don't plan."
She added, the couple is in "no rush" to walk down the aisle, but indicated it could happen.
Watch the video on RadarOnline.com
The new season of Kourtney & Kim Take Miami premieres on E! on Sunday, Jan. 20, at 9 p.m.
Visit NBCNews.com for breaking news, world news, and news about the economy