Exclusive
Kim Kardashian Offered $250,000 For Pregnancy Website!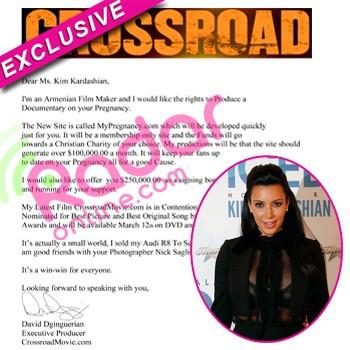 Kim Kardashian has been made a big bucks offer to document the remaining months of her pregnancy, RadarOnline.com is exclusively reporting.
David Dginguerian, who produced the movieCrossroad, wants to launch a membership-only website called MyPregnancy.com. Kim, who is of Armenian descent, is pregnant by boyfriend Kanye West and due in late June.
In a pitch letter to Kim obtained by RadarOnline.com, Dginguerian suggests such a site could "generate $100,000 a month," with the money going to the "Christian Charity" of Kim's choice.
Article continues below advertisement
More importantly, he's offering the Keeping Up with the Kardashians star, who is still married to Kris Humphries $250,000 as a "signing bonus."
We'll let you know if Kim accepts!