Ouch! Khloe Kardashian Calls Kris Humphries 'Delusional', 'Fame Hungry,' And 'Gross'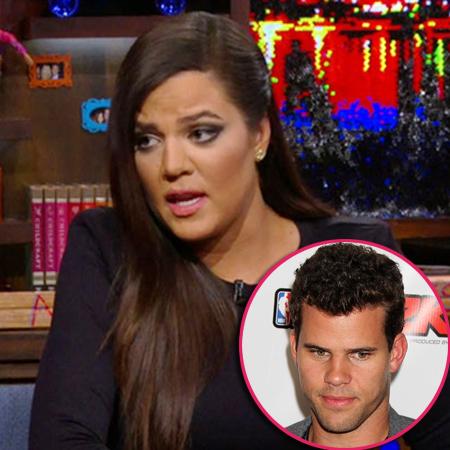 Don't mess with my sis!
Khloe Kardashian slammed her soon-to-be ex brother-in-law Kris Humphries on Thursday night's edition of Watch What Happens Live, calling the NBA player "delusional", "fame hungry", and "gross."
Speaking with Bravo's Andy Cohen, a caller asked a lovely-looking Khloe if she "ever runs into Humphries" and if she does, "are they cordial?"
Responded Khloe: "I have never run into the Hump since… I don't know… New York days, I guess. I don't know the last time I've seen him, but I never run into him."
Article continues below advertisement
She did clarify though that since Humphries and her husband, Lamar Odom, are both in the NBA (Humphries plays for the Nets), they have played against each other and since Khloe, 28, goes to all of her hubby's Clippers home games, she has seen him, but says "it's like we don't know each other."
She also noted it's weird because everyone in the arena is looking to see if they react to each other.
When Cohen asked what was going on with Kim's insanely protracted divorce from Humphries (it's been more than a year since they separated), she said: "It just needs to get over already… It's like five times longer than their marriage!"
Then, she REALLY unleashed.
"He's, in my opinion, delusional," Khloe said of Humphries , who claims that his 72-day marriage to Kim was a fraud. "I don't know why he's asking for anything? He's fame-hungry, in my opinion. He wants money . . . I just think everything he's doing is so -- it's just gross to me."
Khloe had kinder words though for Kim's current beau, Kayne West, with whom she's expecting her first child.
Article continues below advertisement
During a round of Not Plead the Fifth – as opposed to the regular Plead The Fifth - Cohen asked which of her sisters' beaus she'd rather hook up with. "Who do I want to bone?! I can't bone, they both are having babies with my sisters!" Khloe shrieked.
After Cohen prodded her to answer for the sake of the game, she said, "I'm really proud of Scott right now, I'm really liking Scott, and I've always loved Kanye.
"But since I've only gone black, I got... like once you go black, you stay there... so."
Watch What Happens Live airs Sundays through Thursdays at 11/10c on Bravo.