She's Worn Out Her Welcome! Kris Jenner Tires Of 'Princess' Houseguest Kim Kardashian On 'KUWTK'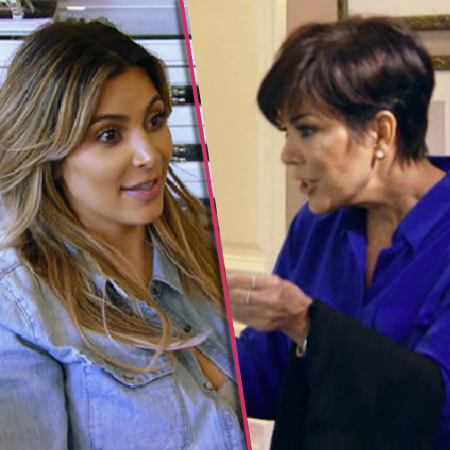 Be careful what you wish for?
Kris Jenner initially begged her daughter Kim Kardashian and baby daddy Kanye West to move into her home with baby North, but on Sunday night's episode of Keeping Up with the Kardashians, viewers saw how Kim had worn out her welcome with her mother, just as Kanye was planning his big proposal.
The "Momager" was disturbed about how Kim and Kanye had quickly made the Jenner family home into THEIR house.
Article continues below advertisement
During the episode, Kris went to the garage and told daughter Kendall she was feeling overwhelmed because of Kim's bossy behavior.
"I'm having a little anxiety attack," she told her model daughter, who pointed out, "You agreed to this."
Later, Kim called in a carpenter to fix things at Kris' mansion and the exasperated matriarch confided to the cameras that she was "secretly counting the days" until the celebrity couple moved out.
But she was shocked when Kim -- who was living there while waiting for her new home with Kanye to be extensively renovated -- told her it would be done in eight months, not six.
"This is not what I signed up for!" Kris sighed to the cameras.
Later, Kris made fun of Kim making too many loud phone calls at her home and sarcastically asked her, "Is there anything I can bring you, princess?"
Desperate Kris, with Khloe Kardashian in tow, visited the contractor at Kim's house to see if the job could be accelerated.
Article continues below advertisement
"I think it's going to take awhile," the contractor said about the old-school-turned-contemporary house, as they stood in its' shell.
"There are no walls or windows," Kris moaned to Khloe.
Kim asked her mom later why she'd talked to the contractor behind her back and said that "there's nothing we can do to make it go quicker."
"I feel like you're MY mom," Kris complained about the living arrangements. "I think you really think this is your house."
"If you want us out, we'll go!" Kim said.
"I want you here but it's gotta be on my terms," Kris said. "I like the way I live."
Seeing her mom's distress, Kim finally gave in, telling Kris to establish some boundaries and she'd follow them.
Kim also had to mend fences with sisters Khloe and Kourtney, as they saw her as judgmental for picking on them for everything from their clothes to taste in furnishings.
Article continues below advertisement
"Lately, Kim has been a little bit annoying -- she's picking on every little thing," Kourtney said.
They decided to use a nickname, Nancy, as they talked about Kim in front of her face without her knowing.
But Kim's feelings were hurt when she found out about the joke. Ultimately, though, the new mom realized she'd been too critical of her sisters.
On Sunday's episode, viewers also saw more on Khloe's disintegrating marriage to basketball player Lamar Odom as he called her on the phone and was vague about his plans and whereabouts.
"Do want to stay with someone you don't even know where they are?" Kim asked Khloe about her MIA hubby.
"I will always love Lamar but he always wants to run from his problems," Khloe told E!'s cameras.
"And I feel frustrated because I've tried to put the pieces together all on my own."
The Kardashians Empire Falling Apart! Popularity At An All-Time Low, TV Ratings Nosedive, Lawsuits & Scandals
Kourtney suggested Khloe go to a therapist, but she declined. Later, Lamar called again, sounding out of it. The NBA athlete told Khloe he had her favorite leopard print security blanket, mumbling bizarrely, "Me and leopard have a date."
Article continues below advertisement
The episode ended on a happy note, as pal Anthony Schiller called Kris and said Kanye was going to have a surprise birthday party for Kim in San Francisco.
"It's so big and over-the-top," he promised, as he told Kris to get the entire family there to join in the fun.
Schiller gave no clue that Kanye was going to propose, but Kris wondered, and so did Khloe.
"In my gut, I feel like something big is going to happen," Khloe said about Kanye's surprise. "I feel like maybe this is a proposal."
Living A Lie: How Kris Jenner Tried To Cover Up Split From Estranged Husband Bruce
Khloe and Kourtney invited as many of Kim's friends and family members as possible. Over the phone, CiCi, their cousin, agreed to come.
But Kim walked in and asked, "What are you guys talking about?"
A preview for next week's episode showed that KUWTK viewers would soon see what RadarOnline.com readers have known since last October -- that Kanye popped the question to Kim at AT & T Park with E!'s cameras rolling!