Kourtney Gets Upset When Scott Is Nearly Injured While Secretly Racing Cars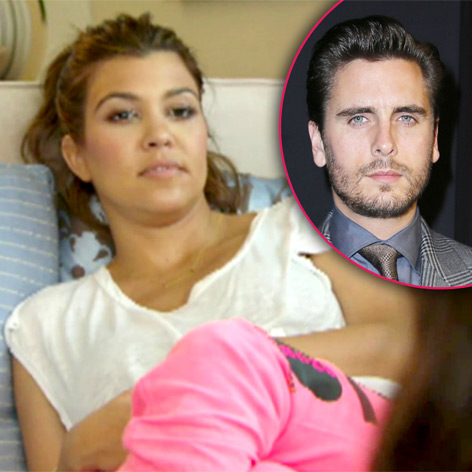 It's not enough Kourtney Kardashian has two kids to worry about: Now, the oldest Kardashian sister has to fret about baby daddy Scott Disick's dangerous new hobby - car racing!
Scott's new pastime was revealed on Monday's second part of Kourtney & Kim Take Miami's season premiere, as he admitted his lifelong dream "was really to be a race car driver.
"For me, anything that has to do with racing cars definitely gets my blood flowing," said Scott, who in Miami, befriended Chapman, a professional race car driver willing to show him the ropes.
Article continues below advertisement
"I usually click with that many people, but my first impression of this guy is it's kind of like looking in a mirror a little bit," Scott said. "His hair is slicked back, he's in a beautiful suit, and all he cares about is motor-sports.
"Should I leave Kourtney now or later for this guy?"
Kourtney, however, was not as impressed with Scott's new man crush.
"I'm glad that Scott has a new friend in Miami to hang out with, and maybe they can go paddle boarding or something safe, but there's no way that I'm letting the father of my children go out on a race track and start taking up this new, super dangerous hobby," Kourtney said.
Still Kourtney's concerns weren't enough to sideline Scott from pursuing his Days of Thunder dreams.
"Driving a race car is just unbelievable," he said. "I mean there's nothing in the world that feels as good as this."
Kourtney found out the wrong way that Scott was racing cars, when she got a call that Scott was taken to the hospital after a car crash on the race track. While Kourtney was very upset that he didn't tell her he was racing, she was relieved that he wasn't hurt during his accident.
Article continues below advertisement
"Although I'd love to not have Scott racing, it seems like he's doing a good job," Kourtney said. "I really love that he's passionate about something, so I really think that I should support him with racing.
"Also he looks very handsome in his racing suit."
On top of Scott racing, Kourtney had another little problem to deal with on Monday's episode - her body odor.
Her younger sister Khloe noticed the problem and decided to address it with Scott, who acknowledged that the mother of his children "reeks ... because she doesn't believe in wearing deodorant because she thinks it's bad for breastfeeding.
"It's uncomfortable," he conceded. "You don't want to tell somebody you love that they stink!"
Khloe began dropping subtle hints to Kourtney - even making her nephew Mason spray his mommy with perfume!
"Typically I would tell Kourtney that she stinks, but Kourtney has a lot going on," Khloe said. "She's very overwhelmed with the babies."
Kourtney finally had enough of Khloe's antics and told her sister that next time, she should just be honest.
Article continues below advertisement