Finally! Kourtney Kardashian And Scott Disick Are Engaged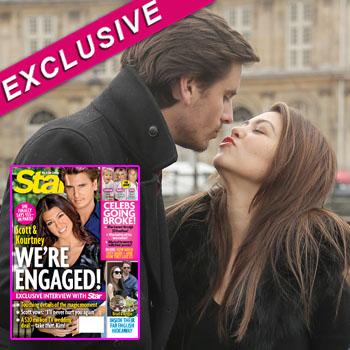 After having two of his children, Scott Disick is finally going to make Kourtney Kardashian an honest woman!
The reality stars, who have been together for five years, got engaged in Paris last week, reports Star magazine, and RadarOnline.com has the details.
"We're all so thrilled they've finally decided to get engaged," Scott's aunt, Laurie Disick dished to Star. "We're all so fond of Kourtney, and we wish them a long, happy marriage."
Article continues below advertisement
RadarOnline.com exclusively reported that Scott was shopping for engagement rings at Levinson Jewelers in Fort Lauderdale in late October. "Scott was most definitely shopping for engagement rings," an onlooker exclusively told RadarOnline.com, "and all of them were large!"
Star reports that Scott was with Kourtney in Paris filming scenes for their reality show and thought that the romantic backdrop would be the perfect place to pop the question.
"Scott's actually been planning to propose for a while," an insider says, "but he just wasn't sure when the moment would be right."
For all the exclusive dish on Kourtney and Scott's engagement, including all the details about their upcoming wedding, pick up the latest issue of Star magazine — on newsstands Wednesday.
RElATED STORIES:
Kim and Kourtney Kardashian Go Jogging In Full Hair And Make-Up
Kris Jenner Has Big Plans For Kendall & Kylie's Fashion Line, Determined To Rival Jessica Simpson!