Kim and Kourtney Kardashian Go Jogging In Full Hair And Make-Up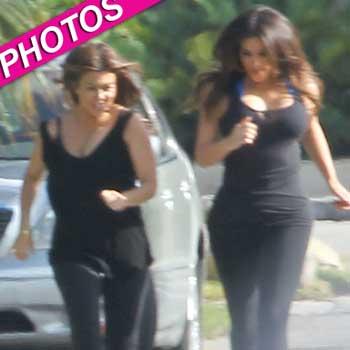 The two queens of reality television can't just go for a brisk jog like ordinary girls - Kim and Kourtney Kardashian had a camera crew and wore full hair and make-up as they went out for a jog on Saturday.
While Kourtney, 33, is said to be desperate to lose the rest of her baby weight Kim is also frantically trying to keep her size down...after one too many dinners with boyfriend Kanye West, as RadarOnline.com previously reported.
Article continues below advertisement
The sisters were spotted running in the afternoon and instead of just opting for regular work out gear, they pulled out all the stops and were seen with professionally blown out hair and camera-ready make-up.
The exercise session was being taped for their reality show, Kourtney & Kim Take Miami, and Kim, 32, was in head-to-toe Spandex while Kourtney was slightly more low-key in leggings and a loose shirt.