Kris Jenner Accused Of Pressuring Kourtney Kardashian To Marry Scott Disick 'For Ratings'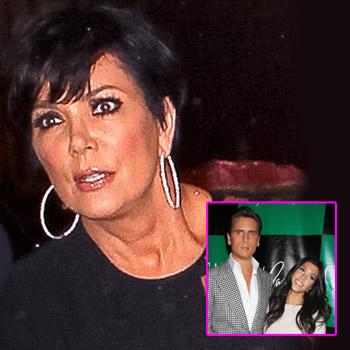 As speculation builds that Kourtney Kardashian and Scott Disick are getting ready to say "I do," a new report claims that it may not be love that is the deciding factor behind a trip down the aisle, but money!
As RadarOnline.com was first to report, Disick was spotted shopping for a huge diamond engagement ring at Levinson Jewelers in Fort Lauderdale, Florida last week, and a source told RadarOnline.com: "Scott and his friend looked at a whole selection of amazing rings, all diamond, all different cuts, sizes, settings; he certainly is taking his time and wants to make the right purchase."
Article continues below advertisement
But, according to In Touch Weekly, it is the Kardashian family matriarch, Kris Jenner who is pushing the couple to the altar, in the belief that another Kardashian wedding would make for great ratings.
"Kris runs the family empire and knows it would be good for business so she is pressuring Kourtney to marry Scott," a source told In Touch. "Even though Kim made the stupid mistake of marrying Kris Humphries and it didn't last more than 72 days, Kris thinks viewers want to see Kourtney and Scott get married. The reality show must succeed."