Kim K. Bans Baby North, Lamar Odom OUT & Bruce Jenner Almost Cut From Bizarre Kardashian Christmas Card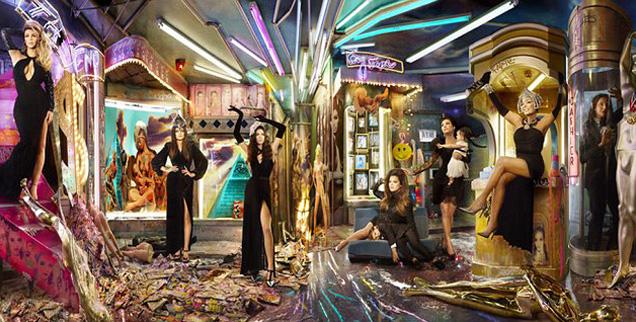 Article continues below advertisement
And there was a lot of tension simmering under the tinsel.
When the family members drew numbers for their secret Santa gifts, Khloe, who has been estranged from Lamar in the wake of his alleged cheating and drug use, was upset at getting the number 7, which belongs to the troubled NBA star.
"It's Lamar's number, 7, so depressing," Khloe told her family, wrinkling her nose.
After the show aired a series of videos showing the Kardashian and Jenner children celebrating Christmas through the years, and Kim, Khloe, and Kourtney had a mock fight over a double chin exercise machine, viewers got to see the drama surrounding the family Christmas card shoot.
And Bruce, who appeared on the show with stitches on his nose after his skin cancer surgery back in September, was almost cut out of the picture!
The ladies hired edgy famed photographer David LaChapelle to photograph their Christmas card, and Kourtney worried the whole idea was too much.
Kourtney told the cameras, "This has been a crazy year. Kim and Kanye got engaged and just had a baby. Khloe and Lamar have been having some issues and because my mom and Bruce are now separated, we just need to figure out what Christmas is going to be like."
Article continues below advertisement
However, Kris and Bruce claimed they'd still be celebrating Christmas like a married couple.
Bruce told the cameras, "Nothing has changed. We're still family. The relationship has changed--it doesn't make any difference."
Kim said in confessional, "Since my mom and Bruce have come to the realization that they want to be separated, they get along so much better."
And Khloe insisted, "There's been changes within our family over the past few months but Bruce is still our dad. He's been in our lives for 25 years and I'm very relieved that Bruce is going to be just as involved in our traditions as he's always been."
Kris said, "Family will always be first."
When asked if he'd be staying over at Kris' house for Christmas Eve, Bruce joked to the kids, "That's my Christmas present!"
But later, LaChapelle was brought in to create a high-fashion Christmas card -- which he decided would only feature the Kardashian women!
"Maybe it's better to leave the kids out," LaChapelle also told Kourtney about little Mason and Penelope.
Article continues below advertisement
Kim liked his female-centric idea.
She said, "Kanye's on tour. Lamar is, um," she then paused. "Busy."
Sister Khloe laughed awkwardly about her MIA husband and said, "Okay."
The photographer pointed out, "Then there's no guessing game, where's so and so?"
Celebs Who Have Slammed The Kardashians
Kris loved the scheme, and while Rob Kardashian and Scott Disick didn't care about being on the card, Kendall Jenner felt bad for her father, Bruce.
And when the teen visited him, Bruce looked terribly hurt that he wouldn't be on the card.
"Since Lamar and Kanye can't do it and Scott and Rob don't care, I think it's just going to be the girls," Kendall said.
"I think that is a terrible decision," the former decathlete raged to Kendall.
"Whose idea is this?"
When Kendall said the photographer was behind it, Bruce scoffed at that.
"We've done it for 23 years and now all of a sudden they want to change it? Maybe mom and I--our relationship is a little different but we're still a family. It's your mom's and my Christmas card."
Article continues below advertisement
Later, Kris learned about Bruce's pain, and told her daughters, "I didn't know he felt this way at all.
"The no guys theme keeps it so clean. There's so much drama going on in our family right now," Kris sighed.
Khloe concluded that the whole matter had turned into "a stressful train wreck."
Then Kris visited Bruce for a heart-to-heart talk. "I heard your feelings were hurt because we didn't invite you to be in the Christmas card shoot."
Bruce implied to the cameras it was all Kris' fault, then fumed to her, "I've never in the past had to be invited to our Christmas card."
Still, Kris insisted to her estranged spouse she just rode with the photographer's idea: "It wasn't a diss on you or anybody else. I'm really sorry and I want you to be in the Christmas card if you want to be in the Christmas card."
"I'm in!" Bruce declared.
Improbably, Kris then told the cameras she and her estranged hubby were still best friends.
Article continues below advertisement
Later, at the Christmas shoot, the girls were dressed up in futuristic '60s style, with sky-high hair like in the movie Barbarella.
And the temperamental LaChapelle tried to put his foot down on including Kourtney's children Mason and Penelope.
"It's not going to work," he said.
Meanwhile, Bruce joked to Kim, "A first--your hair is bigger than your ass."
The set wound up looking like a post-apocalyptic world, with images of all the Kardashians and Bruce Jenner displayed throughout -- but with no Christmas coziness to be seen!
Suddenly, however, Mason and Penelope appeared on the set.
"I don't have a place to put them," the photographer whined of Kourtney's kids.
"I didn't baby proof the set," LaChapelle sighed. "I'm not comfortable."
But mama Kourtney prevailed and got her kids on the card!
At the end of the Christmas special, the Kardashians unveiled the bizarre 2013 card with Kourtney making a joke to Khloe about how she was looking for something "high and low." Was that a veiled reference to Lamar's ongoing alleged drug problems?
Article continues below advertisement
Following the special, a preview of season 9 of Keeping Up with the Kardashians revealed that the next time viewers tune in next year, they'll see Khloe and Lamar and Kris and Bruce's marital problems explored.
"Why are you still married?" an anguished Kendall asks her mom in the preview.
And Lamar is heard begging the family to get back into the fold, while Khloe concludes, "I have to move on with my life."
But the preview also showed Kim's spectacular engagement to Kanye will be the one happy moment for the entire family next season.