Justin Bieber Posts Shirtless Photo In Hospital After Collapsing Onstage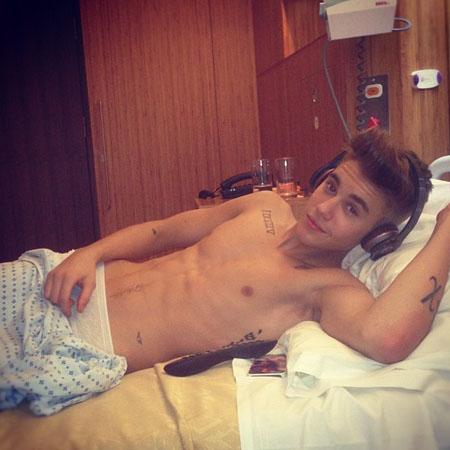 Just hours after he fell short of breath and collapsed onstage during his show at London's O2 Arena, Justin Bieber used social media to reassure fans he was alright, posting a shirtless self-pic from the hospital and tweeting that he was "getting better.
The teen heartthrob early Friday tweeted thanks to his fans for "pulling me thru tonight," calling them the "best fans in the world."
The 19-year-old Baby singer said doctors were "figuring out what happened" after the scary incident at the show, which he still managed to finish in spite of the health scare.
Article continues below advertisement
O2 Arena spokesman Jeremy King said that in spite of the scare, Justin will be ready to go for Friday's show.
"As far as we are concerned everything is on, on, on," King said. "He was treated by our team of medics and after further examination they didn't find anything more serious or worrying."
As RadarOnline.com previously reported, Bieber's manager Scooter Braun told the O2 crowd Bieber was "very low of breath" when he collapsed.
Watch the video on RadarOnline.com
youtube
Braun later took to Twitter and wrote, "everyone please give him a little space and he will be ok. Im sure he appreciates the support ... Tough kid proud night once again he always finishes the show. Full out. True pro..."
A rep for Bieber later told RadarOnline.com that Justin has been released from the hospital after a check-up and while he's feeling a little under the weather, he is currently planning on going ahead with Friday night's show.