Hey There, Doll! Justin Bieber Makes Out With A Mannequin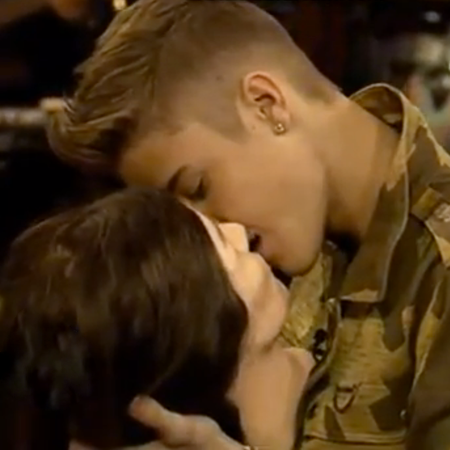 Justin Bieber showed off his kissing skills - with a mannequin's head! - on Tuesday's edition of Late Night With Jimmy Fallon, and RadarOnline.com has the clip of his funny appearance.
The magic moment occurred during a bit on the late night show which saw Justin and Jimmy in a basketball shooting competition with unusual items such as ramen noodles, milkshakes and mannequin heads.
When Justin readied to lob the mannequin head, he lost focus, and did his best Don Juan impersonation instead.
Article continues below advertisement
"Don't fall in love with it, Justin, no! Focus!" Fallon told the Baby singer as he let loose on the faux head.
Elsewhere in the appearance, the 18-year-old pop star said he was looking forward to this week's Saturday Night Live, which will be his first time hosting the iconic variety show.
"I'm nervous, but I think it's going to be fun," said the Canadian heartthrob, who will also be the musical guest. "I've just got to remember to memorize the lines."
Car-loving Bieber told Jimmy he loves his latest ride, the Ferrari 458 Italia, but said the flashiness comes at a price.
"You know what, the police really like to pull me over," Bieber said. "I don't do anything, I promise. It looks bad, you see pictures of me, but really, the tints are really dark and a lot of the times they'll pull me over.
"I don't want to cause accidents, because people are trying to take pictures and I thought it would be more safe for everyone else if I had dark tints. I'm having fun being 18 and enjoying my life and being responsible."