'John Travolta Is So Gay!' Margaret Cho Rips His Sexuality During Comedy Routine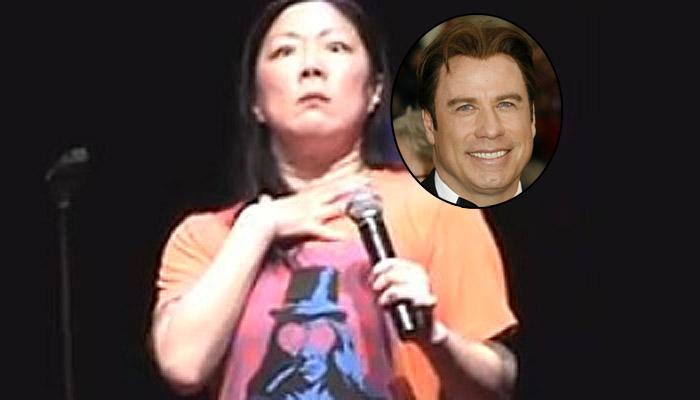 Margaret Cho has a razor sharp sense of humor and she recently turned that on John Travolta in a scandalous act where she openly stated that the married actor is gay.
During a recently comedy routine in Australia Travolta's sexuality took center stage.
"He is so gay. John Travolta is so gay," Margaret said from stage to a shocked audience.
An openly gay activist, Margaret said she has been friends with Travolta since they worked together on the 1997 movie Face/Off.
Article continues below advertisement
"He's not just gay. He doesn't just like men. He is like Oscar Wilde gay…like Lord Byron gay," she said.
"That kind of crazy, incredibly flamboyant gay... I know him well because I did a movie with him and worked with him for a year."
John has been married to Kelly Preston since 1991 and they've had three children together. Margaret said she always thought Travolta was unhappy with his situation.
"I feel bad for him; because I know he would be much happier if he could just come out," she said to the crowd. "But he can't."
In 2012 the National Enquirer published a report that Travolta had a six-year gay affair with his pilot Doug Gotterba. He also fought two lawsuits that were filed by male masseurs claiming Travolta was sexually aggressive with them. The lawsuits were eventually dropped.
radar_embed service=youtube src="https://www.youtube.com/embed/7dRTtosEgmo" width="560" height="315"