Family Vacation! John Travolta And Kelly Preston Take 2-Year-Old Benjamin Down Under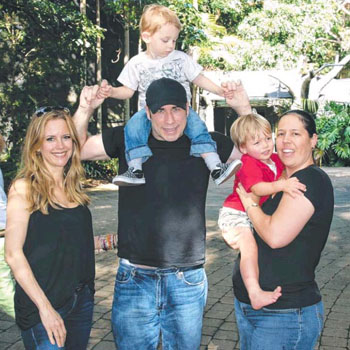 John Travolta and Kelly Preston were a picture of the perfect family on the Gold Coast in Australia on Sunday afternoon, taking their two-year-old son Benjamin to a local zoo to get up close to koalas and wallabies.
And the Hollywood megastars even posed for photos with stunned locals at the Currumbin Wildlife Sanctuary.
Dressed in a black t-shirt, cap and jeans, Travolta, 59, and Preston, 50, mingled with local parents, according to one, Penny Ferguson, who convinced the couple to be snapped with her two-year-old son Aidan.
Article continues below advertisement
"My son was in the pram and I heard a woman ask her son if he wanted to look at the baby, so I turned around and realized Kelly Preston and her two-year-old son Ben were walking towards me," she told The Gold Coast Bulletin newspaper.
Everyone Knows John Travolta Is Gay, Says Carrie Fisher
"I got Aidan out of the pram and Kelly asked me how old he was and then John Travolta told me my son was gorgeous, which completely made my day.
"When you become a parent it isn't uncommon to chat and share advice with other random parents and their children - and this is exactly what this was like."
The Travoltas were given a private tour of the wallaby enclosure, Ferguson said.
"He was just so lovely and down to earth. He was making jokes about our little boys and he didn't act like he was anything special," Ferguson added.
"Afterwards I realized there were so many things I could have asked. But they were having a family day and we didn't want to ruin that."
Currumbin Wildlife Sanctuary's spokesperson Nancy Ruscitti confirmed the Grease and Pulp Fiction star scored a cuddle with a Koala.
It's not known why the Travolta's are Down Under, though the avid pilot is an ambassador for the nation's airline Qantas.
A spokeswomen from the Gold Coast Airport refused to comment on whether the actor had piloted a plane to Coolangatta, a coastal town popular with vacationers.