Jodi Arias Wanted 'Revenge' And Threatened To Cut Prosecutor's Throat -- Just Like How She Killed Travis Alexander, Ex-Cellmate Reveals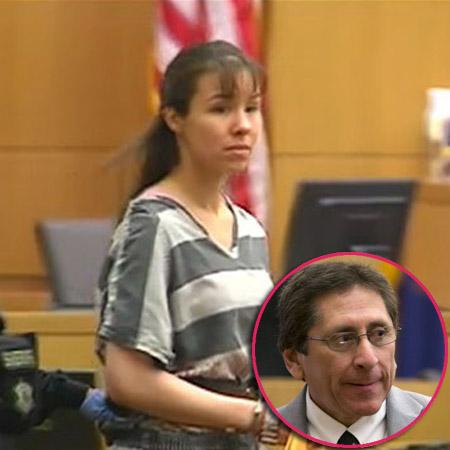 Jodi Arias was found guilty of brutal murder and her former cellmate has come forward to says that she was "dangerous" behind bars and even threatened to get her revenge on the prosecutor by having his throat cut, the same way she killed Travis Alexander.
Cassandra Collins, who shared a cell with Arias in the Estrella jail before the trial started, spoke with FOX 10 in Arizona about the 34-year-old excommunicated Mormon, saying that she believes Arias is very manipulative.
Article continues below advertisement
"She's very dangerous.. very dangerous," Collins said about Travis Alexander's killer.
As RadarOnline.com previously reported, Arias taunted Juan Martinez via Twitter during the trial, and Collins claimed that she was threatening him prior to her first-degree murder conviction.
"She said that if she was given the death sentence … she wanted to get her revenge... she knows inmates on the outs to do a mafia bow tie.. yeah. Cut his throat.."
FOX 10's Troy Hayden asked if she thought Arias was threatening Martinez' life and she responded ""Yes, I do. I really think she would try to hurt someone."
FOX 10 News | myfoxphoenix.com
Collins also claimed that Arias, who has run up a long rap sheet while behind bars, was not hated by her fellow inmates.
"She manipulates.. tried to manipulate every inmate there.. and tries to control how they think about her case. She'll try to suffocate you with her version and her side. When I got released out, I was like thank you God I got delivered out of hell."
Article continues below advertisement
Hayden reported that when he visited Aria's jail pod in January her cellmates had posted signs that said: "Jodi is innocent" and "free Jodi."
Collins also said Arias seemed to have an unusual perspective about the prosecutor.
"She asked me questions like why doesn't Juan Martinez love me? And I'm like, love you? He's your prosecutor.. he's there to prosecute you for a crime.. and I'm like why doesn't he love you?" she told Hayden and told him that she wasn't joking and that she is worried about Martinez' safety.
"Yeah.. she was serious.. why doesn't Juan Martinez love me? She's out of her freakin' mind."
"He need to get good security staff around him to make sure she can't get anybody on the outs to solicit something.. to harm him or to hurt him... She's very dangerous.. very dangerous."
Martinez has said that he intends to impanel another jury for the sentencing phase to seek the death penalty for Arias.