No Shame! Defiant Jodi Arias Slams 'Haters' In Bombshell Phone Call From Prison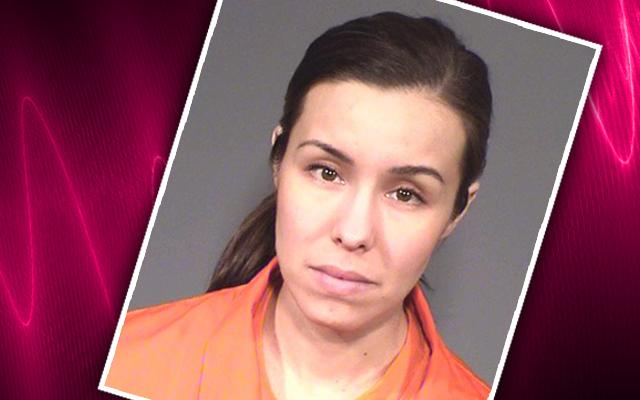 Jodi Arias is serving a life sentence without the possibility of parole in a state prison. But for the first time since she was sentenced, she's speaking out in a bombshell audio conversation obtained by RadarOnline.com.
The conversation obtained by Radar took place on Sunday, January 10, 2016, and is a 15-minute call, the maximum lengthy allowed by the prison system. Arias, now 35, reached out to Kareem "Lefty" Williams, a rapper who produced a video about her in order to bring awareness to PTSD and domestic violence and Radar has obtained the audio from their conversation.
Article continues below advertisement
Despite being locked up for the remainder of her life, Arias maintains an upbeat attitude during the conversation and shares mundane details from her life behind bars – from her meals to the plethora of television stations which she is allowed to watch. And she doesn't seem to be feeling regret or mourning over Travis Alexander's murder.
During the call, a giggly Arias nonchalantly describes her prison dinner. "We had chicken fajitas here tonight. Really good," she says. "A big old pile of caramelized onions, some bell peppers, like, all the works."
Explaining to Williams what her food schedule consists of, she details her usual meals: "On the weekends they give us a hot dinner, on the week days it's like sandwiches. Nothing is very good."
The pair talk about Williams' rap video, in which he tries to raise awareness about PTSD and domestic violence singing about Arias and putting her image in the video. He tells her that he is getting a little "heat, and Arias explains how she ignores them.
Article continues below advertisement
"Oh yeah, haters are gonna hate," she insists, and Williams tells her he believes the two of them are the most hated people in the country.
Arias dismisses the claims.
"It's all good. If this is what it is like to be hated, then keep hating!" she says. "I've had so much love coming in my direction I can't even respond to it now."
During her trial, Arias' attorneys argued against the intense media coverage of the case, but behind bars Arias tells Williams that she has access to multiple channel including: Univision, CBS, PBS, FOX , BET, CNN, TNT, USA, Lifetime and A&E.
Arias was excommunicated from the Mormon church after her conviction, but she tells Williams she can watch a BYU (Brigham Young University) channel, a Catholic Channel and a Protestant channel.
In addition, Arias shares the news that in February she expects to be able to have "contact visits." As Radar previously reported, so far her visitors have been forced to sit opposite Arias in order to talk on the telephone, separate by a glass wall.
Arias and Williams met during a similar visit, and she tells her pal to ignore the backlash he has received for the music video he made about her life.
"You should be flattered," she tells him. "It doesn't matter how bad it is. You should be flattered that somebody took the time …These people have no life or they're really in love with you."
Listen to Radar's exclusive first phone call of Jodi Arias from behind bars to find out what books she's reading, what she had for breakfast and dinner and to see how she's adjusting to a looming lifetime behind bars.