Inside Jodi Arias's Prison Hell: 'No Friends' & Living Like A 'Dog' In A 'Cage!'
Jodi Arias is serving a life sentence for the brutal murder of Travis Alexander, and her accommodations aren't exactly luxurious. One of the visitors to her maximum security prison told RadarOnline.com exclusively that her current quarters are more like a "dog cage!"
Rapper Kareem "Lefty" Williams spoke with RadarOnline.com about Arias, whom he calls "a little sister," and described the times he has visited her behind bars recently, revealing what she thinks about the Alexander family and if she believes she will ever be free.
Article continues below advertisement
Williams told RadarOnline.com that he has visited the convicted killer "two or three times," at the Perryville Prison in Arizona, and described what it is like meet the woman who has been sentenced to life behind bars.
"Visiting days for Jodi are Thursday from 7 to 10:30 am," he began. "She is still in the maximum security area. She has two guards with her whenever she goes anywhere and is in shackles. She is treated like a death row inmate even though she isn't on death row."
Upon his arrival he was subjected to a strict set of rules to prohibit visitors from bringing contraband into the prison, he said.
"You have to go through security. You have to put all of your personal belongings in a locker. Then you have a locker key. You aren't allowed to bring in a camera or a cell phone. Then you have to go outside on a bus and it takes you to the Lumley Unit."
Williams told RadarOnline.com he then had to go through another security check in the unit and was escorted into a room with other visitors where he could have a conversation through a glass wall on a telephone with Arias.
Article continues below advertisement
But it was her side of the glass partition that he found shocking.
"When we have our conversation it is like she is being held in a dog cage," he claimed. "It looks very inhumane. She is in a small metal cage which is like a small room when she is talking to me. Her hands aren't cuffed but I can't see her feet. She is in a single cage all by herself. There is a whole row of cages for the prisoners."
He told RadarOnline.com that Arias is restricted to phone only visits but may be able to meet with people in person in February.
But it doesn't seem to be affecting her much. Williams told RadarOnline.com that Arias has only gained four pounds since she's been at Perryville and joked, "There is no way anyone should look this good in jail."
"She works out a little. She wore her hair in a ponytail each time I saw her and she told me she's about to get moved to a new room cell."
Article continues below advertisement
Known for indulging at the commissary when she was in the Estrella jail, Arias is able to buy the same kind of food at the prison, Williams said.
"She's smart. She doesn't need anything. She is well taken care of but she doesn't have a prison job," he claimed. "She gets whatever she wants from a commissary."
He even revealed that he spoke to her on January 10, 2016 and she had a chicken fajita for dinner. "The food at Perryville is much better than Estrella that's for sure," he told RadarOnline.com.
But Williams told RadarOnline.com that Arias is not socializing with other inmates: "She has no friends. She keeps her distance. Jodi has a lot of fan mail. She gets about 60 to 70 letters a day. She doesn't have a lot of time to do stuff. She is still drawing. She is a busy girl."
A rapper, Williams has written a song and produced a video to bring awareness to PTSD, from which Arias claimed she suffered after being abused by Alexander, a claim the jury rejected when finding her guilty of first-degree murder.
Article continues below advertisement
He shared with RadarOnline.com a letter Arias wrote about the video, extoling its virtues and encouraging people to watch. In the letter she wrote "I recently read an article in The Economist in which the latest research suggests that PTSD is a lot more common than previously believed."
"Jodi was a victim of domestic violence," Williams insisted. "And I got other women who were victims too and they are trying to get attention for the cause. Jodi is not the monster everybody thinks she is."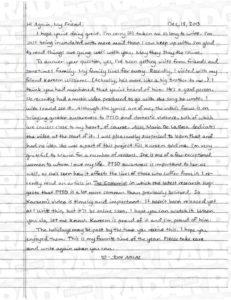 Arias' former lawyer, Kirk Nurmi, recently wrote a book about his experience defending her, saying that she treated him like a "boyfriend," and was a difficult client.
But Williams told RadarOnline.com that Arias said that Nurmi's opinion was "bullsh*t," and that they "don't get along."
Despite being found guilty of the brutal murder of Alexander, Williams said that Arias has referred to his family, who sat in the courtroom every day during the trial.
"She told me that the Alexander family are victims too," Wiliams said. "Everybody was a victim and nobody is winning."
What do you think about Jodi Arias' life behind bars? Sound off in comments below.