Defense Deja Vu! Jodi Arias Slams Victim, Claims Travis Alexander Went From Terrifying Attacker To 'Tender' Nurse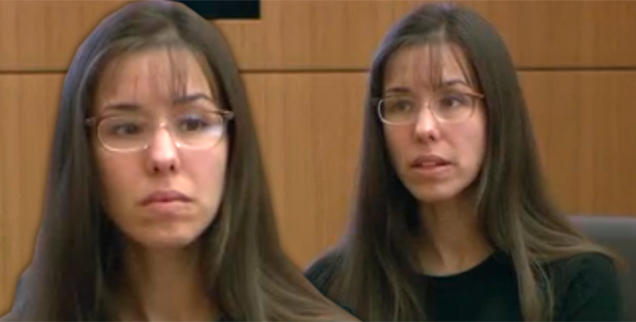 In a case of courtroom deja vu, Jodi Arias was back on the stand testifying with defense attorney Kirk Nurmi Monday as he attempted to undo the damage to her self-defense case inflicted by the prosecution last week.
Nurmi kicked off the morning's proceedings by hammering home the claim that the 32-year-old femme fatale killed her former boyfriend in self defense, according to Arizona Republic reporter Michael Kiefer from inside the courtroom.
Article continues below advertisement
"Remind me, why was that?" Nurmi asked his client, to which she replied: "He was trying to kill me," before the questioning looped back around to the finger that she claims Travis Alexander broke when he allegedly kicked her in a vicious attack in January 2008.
While she didn't receive any professional treatment for the alleged injury, Arias said her abuser made a splint for her. "It sounds weird but it was kind of endearing. He was very tender with it, he was being very careful," she told the court while revealing how he treated the swelling with crushed ice.
"He did what he could to right what he had wronged… that meant a lot," Arias mumbled. "The moment was endearing, it seemed very tender, he was very sincere. When I got home I took it off and cried, and he made another one for me later. At the moment that he made it he seemed very gentle with it."
For more on her broken finger story, watch KPNX Channel 12 News' video from inside the courtroom here:
Despite the busted digit and alleged angry outbursts between the tumultuous couple, "The love didn't go away just because the trust did," Arias testified, going on to admit that they were "blurring boundaries" by still sleeping with each other after they had officially split up.
Article continues below advertisement
Even after Alexander's death in June 2008, after Arias stabbed him 29 times, slit his throat from ear-to-ear and shot him, Jodi bizarrely wrote a sentimental letter to her victim for his memorial service - which led her to break down in tears when it was read out in court.
"You told me that you never stopped believing in me," read the handwritten message. "Thank you for all your generosity, the world has been blessed."
Arias went on to explain her eery posthumous sentiment to her slain lover: "I also believed that he would get better and fix the parts of himself that he believed needed work… he was constantly striving to work on himself," she said.
"He shared a lot of spirituality with me… we went on so many trips, it felt like we lived an entire lifetime in one year."
For more on the handwritten memorial note, watch KPNX Channel 12 News' video from inside the courtroom here: