Jodi Arias' Sex Fueled Secret Diary Reveals A 'Domestic Violence Victim Mindset,' Claims Expert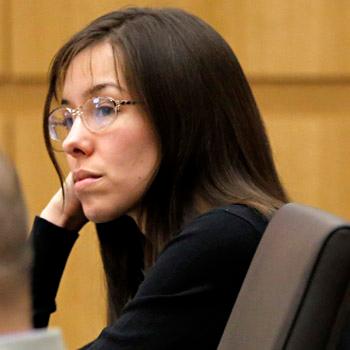 Once the jaw-dropping announcement from Judge Sherry Stevens had been made that a juror had been booted off the Jodi Arias murder trial, it was back to business as usual in the dramatic case.
As RadarOnline.com previously reported, the Maricopa County Court judge dismissed controversial Juror 5 from the panel Tuesday for misconduct, but denied the defense team's request for a mistrial.
The axing came in light of Monday's complaint from Arias' lead attorney, Kirk Nurmi, who asked that the female juror be removed, claiming that: "statements Juror 5 made in front of her fellow jurors amounts to misconduct that inserted partiality in what is supposed to be an impartial body."
Article continues below advertisement
For the rest of the day, the remaining 17 jurors – 12 to deliberate and five alternates – heard testimony from domestic violence expert defense witness, Alyce LaViolette, as she offered her opinion on the sex fueled raunchy details in Arias' secret diary describing her alleged murder victim Travis Alexander's two-timing ways.
Travis was cheating, but Arias believed thinking good things and ignoring bad would result in a positive life, claimed LaViolette, according to Arizona Republic reporter Michelle Lee.
"That mindset is bad in domestic-violence situations, that positive thinking would change the other person's behavior," she testified.
The dysfunctional couple broke any semblance of trust between each other long before the devout Mormon's grisly death, on June 4, 2008 – she by looking through his texts; he by texting sexual things to other women – leading Jodi to epitomize a domestic-violence victim by drowning in self blame, LaViolette claimed.
Article continues below advertisement
Amid the countless sidebars and delays that made Tuesday's testimony slow-going, LaViolette explained that even though Arias knew that Alexander wasn't good for her physically or emotionally, she still stayed within him for intermittent "rewards" such as kind words or consensual sex.
In one shocking revelation, the domestic abuse expert testified that Jodi busted her former boyfriend emailing women asking for sexy pictures, such as a September 2007 request for a photo he could: "drool over all day."