Jodi Arias Drops More Dramatic Bombshells, Claims Alleged Victim 'Used Her' She 'Felt Like A Prostitute'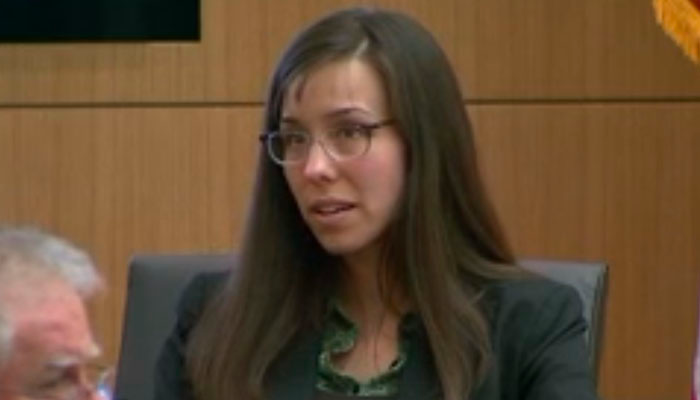 Jodi Arias spent yet another day on the stand dropping dramatic bombshells and shocking revelations about her steamy, sexually charged relationship with her alleged murder victim, Travis Alexander.
During Wednesday's testimony in the Maricopa County Court in Phoenix, Arizona, Arias continued her bid to portray the slain devout Mormon as repeatedly demanding sexual acts from her despite his Church's expected vow of chastity.
Article continues below advertisement
As RadarOnline.com previously reported, during her first day of testimony on Monday, Arias, 32, admitted to killing her former boyfriend, a 30-year-old motivational speaker, in June 2007.
"Yes I did," Arias said when asked if she killed Alexander. When questioned why, she claimed, "The simple reason is he attacked me."
Arias and Alexander officially dated for several months, but continued their sexual relationship long after they broke up. Alexander was killed after Arias shot him in the face, stabbed him 27 times and slit his throat. Her defense team maintains she was acting in self defense - fighting for her life after Alexander became violent towards her.
Her third and latest stint on the stand revealed graphic depictions of the months she spent as Travis' lover, including the claim that just hours after she was baptized into the Mormon Church by him on Nov. 26, 2006, Alexander performed an intrusive sexual act on her without permission. Even though she admitted that she didn't resist, she said it was "painful…it became too painful," and afterwards that she "felt like a used toilet paper."
Article continues below advertisement
"It seemed like Travis kind of had a Bill Clinton version of sex - where oral and deleted are also sex to me, but not for him," Arias explained.
"I felt little bit used. He gets a hotel room, I show up, we have sex, he's not mentally present," she claimed earlier in her testimony when discussing one of their sexual encounters in a California motel room where they regularly met for steamy trysts.
"I kind of felt like a prostitute. I was more upset with myself," she said.
When Jodi told the jury that she had gone along with "Travis' agenda" when it came to sex, one of his sisters shook her head and rolled her eyes in disgust, according to Arizona Republic reporter Michelle Lee, who was in the courtroom.
Confused about her role in his life, Arias testified that Alexander called her his girlfriend "in front of some people but not others" - including, and most upsettingly - his grandmother. When in private, she claimed, he called her by much more intimate nicknames, including "porn star" and "Pollyanna."
Article continues below advertisement
Travis' alleged dalliances with other women also upset Arias, who testified about how she "accidentally" read flirty messages on his MySpace account and an e-mail from a married LDS woman.
youtube
She then recalled an occasion when Alexander helped a drunk girl "with a very generous cleavage" at the Pre-Paid Legal convention and got a little too close for comfort. "I was really hurt, my stomach flip-flopped. I went into the bathroom and cried alone," she said.
Arias said that their sexually charged trysts turned into a committed relationship on Feb. 2, 2007, just before the Valentine's Day that Jodi found a box at her house filled with chocolates, a T-shirt and panties with"Travis Alexander's," written across them and a sexually explicit letter from Travis, which caused such a furor in the courtroom that it led to a sidebar with the judge.
Wednesday's proceedings were brought to an abrupt end before the exact contents of the note were revealed, and the trial will not resume again until Monday.
Keep checking back with RadarOnline.com for regular updates and daily live-streaming of the Jodi Arias trial as it continues.