Jodi Arias Isn't Lying, Or Suffering From A Convenient Memory — Expert Claims She Has 'Post-Traumatic Stress Disorder!'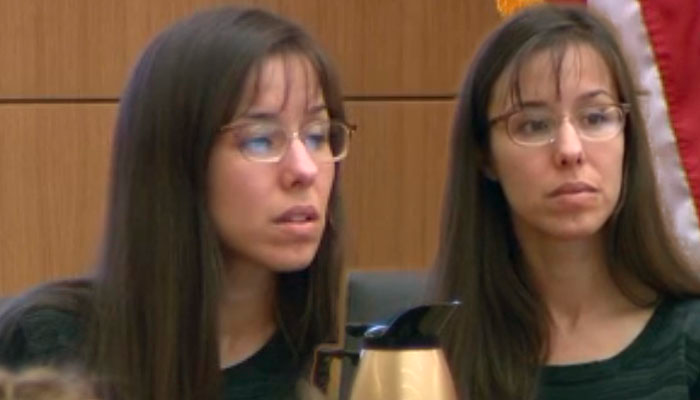 Jodi Arias has been raked over the coals time and time again by the prosecution over her seemingly convenient lapses in memory and her inability to recollect exactly what happened on the day she killed her ex-boyfriend Travis Alexander by shooting him in the head, stabbing him 29 times and slitting his throat from ear to ear.
But, a psychologist has lept to Arias' defense - claiming the murder defendant, who could face the death penalty if convicted of first degree murder, has not been lying - or even failing to tell the full truth - instead, he testified, the 32-year-old is suffering from post-traumatic stress disorder!
Article continues below advertisement
Dr. Richard Samuels took the stand in the Arizona courtroom Thursday to present his argument to the jury - using a Power Point presentation that included a diagram of the human brain, he said there is a physiological explanation as to why the woman who maintains she killed Alexander in self-defense, has – as she testified last month – a "huge gap" in her memory when it comes to the events surrounding Alexander allegedly attacking her and her subsequently slaying him.
"The brain is interested in survival and so all our energies are focused on self-protection," Samuels argued. "We don't start thinking: 'Oh what a beautiful color my attacker is wearing'. We don't think about that…
"We simply fight for our lives or we flee from the scene. That's all that happens whether you're a rat, an alligator or a human being."
As RadarOnline.com previously reported, Arias' defense team has attempted throughout the trial to portray Alexander as a sex crazed physically and sexually abusive monster whom a terrified Arias was forced to retaliate against on that fateful June 2008 night after he attacked her once again and she feared for her own life.
Article continues below advertisement
However, when grilled by prosecutor Juan Martinez as to what exactly went down leading up to, during and directly after she killed the former motivational speaker - despite having a crystal clear recollection of many other seemingly minute details, Arias claimed to have no memory at all when it came to carrying out the brutal killing - insisting it's all a fog.
"I have made attempts to piece things back together," she testified, before admitting, "There's a part of me that doesn't ever want to remember it."
MORE ON:
Celebrity Justice
Yet, prosecutors have argued, Arias did have the presence of mind to try to clean up the bloody death scene, drive into the desert where she allegedly dumped the gun she shot Alexander with and lie multiple times to authorities in a bid to hide what she had done.
But all of those things, Dr. Samuels claimed, are classic traits of PTSD.
"Once a person enters this state, while the memories are not being formed, any activities that are involved in fleeing seem to be able to occur – such as running away or getting into a car," he said.
Article continues below advertisement
Dr. Samuels went on to testify that he came to his conclusion after having examined Arias on more than one occasion and read through the journals she kept as far back as junior high school.
He said that, based on her diaries, he believes she is a pacifist who didn't use a "violent" word, which explains why she tried to cover up her actions.
"We call it denial," he said. "It's a very intense form of denial where a person cannot deal with the fact that something they did was so opposite of everything else they stood for in life."
The Jodi Arias murder trial resumes Monday — keep checking back to RadarOnline.com for developments, and to watch live streaming of the bombshell case.