The Jodi Arias Murder Trial, Final Marathon Showdown! Did The Bullet Incapacitate Travis Alexander?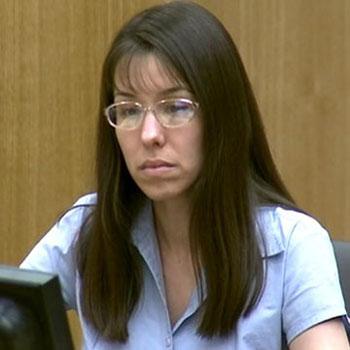 With the judge in the bombshell Jodi Arias trial for the alleged murder of Travis Alexander warning the jury last week that they were all "going to stay here until we finish" on Wednesday, the final day of testimony turned out to be a marathon and lived up to everyone's lengthy expectations — and RadarOnline.com has all the details.
The endless day turned into a bitter battle of the experts in the Maricopa County Courtroom, with the defense first trotting out Dr. Robert Geffner in an attempt to convince the jury that Jodi does not suffer from borderline personality disorder, as previously testified by prosecution expert witness Janeen DeMarte.
Article continues below advertisement
Psychologist Dr. Geffner, founding president of the Family Violence and Sexual Assault Center in San Diego, reviewed or re-scored several of the tests administered to Jodi, including the PTSD test even though he did not interview her or review police reports, and only looked over the reports of the other expert witnesses.
"This is termed an aggressive scale," he revealed, referring to a chart onscreen that suggested Jodi is not angry or antisocial, and was in fact well below the aggression level.
"Instead of being aggressive it means this person is a personality, but that doesn't mean she can't be aggressive at times… It means a trait or part of them is more submissive or passive."
When asked by defense attorney Jennifer Willmott, "Is it true that summary scales don't exist?" he replied, "It is obviously not true, they are here," explaining that there are two ways of getting them, one of which is "computer scoring."
Article continues below advertisement
If DeMarte just did the hand scoring, "would that in any way prevent her from coming up with summary scales?" asked Willmott. "No," was the reply to the packed courtroom that didn't even have enough seats or the working media because of the number of trial groupies present, revealed Arizona Republic reporter, Michael Kiefer.
Jodi's lawyer went on to make a bizarre animal hypotheses, asking Dr. Geffner, "If a person lies about the type of trauma they had, for example they say they were attacked by a tiger but in reality they were attacked by a bear, either way they have suffered trauma – is it going to matter one way or another?"
"No, not for this test or a diagnosis of PTSD," the expert witness answered. "It is the reaction to the event that is assessed and goes into the diagnosis…it requires there to be a traumatic event, not what it is. The test is focusing on the reaction to it.
"We're looking at a consistent pattern of trauma," he later explained, adding, "She could be suffering from PTSD and borderline personality disorder, but if all of your symptoms of borderline came after the event, it's not appropriate to call it just borderline. All your tests are supporting some sort of anxiety disorder."
Article continues below advertisement
The witness, who is also qualified in neuropsychology — self-described as "the bridge between psychology and medicine" – went on to address the highly contested debate as to whether Travis would have been incapacitated by the gunshot and which came first, the bullet wound or the stabbing?
The shot could disorient but research shows that the person would not necessarily be incapacitated, he concluded, as Jodi looked on in silent captivation while anxiously taking notes.
A hollow-point bullet might cause massive damage, "but nothing in that part of the brain would incapacitate someone."
As expected, prosecutor Juan Martinez went on the attack when he took the center stage, pointing out that Dr. Geffner is not licensed in Arizona and two other states where he has testified, claiming that a judge threw out his affidavit in a case in Texas and another in Hawaii excluded some of his testimony.
Article continues below advertisement
"Didn't you do your research before you came in here?" Martinez shouted at his courtroom rival, who became so flustered by the bulldog lawyer's hammering that he spilled his water and accused him of "putting words in my mouth."
Martinez concluded by asking if Dr. Geffner could tell the trajectory of the bullet through Alexander's brain. He said no, but he "trusts the report."
Dr. Geffner explained that he doesn't think the bullet trajectory went through much of the brain if at all, instead through sinus cavity, and it would have to go through a section of the brain farther back to impair motor skills.