Dirty Texts, Sex Games, Violence! Jodi Arias Claims She Shook 'Like A Chihuahua' From Fear Of Alleged Murder Victim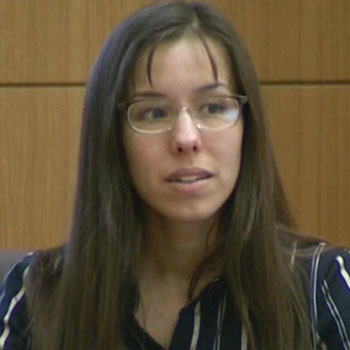 While the smut level was a few notches lower than the previous day's playing of a XXX-rated phone sex tape recording, the Jodi Arias murder trial was full of drama still when the pretty brunette took the stand on Wednesday.
As RadarOnline.com previously reported, Arias testified Tuesday that she discovered her alleged murder victim, Travis Alexander, pleasuring himself while looking a photos of a very young boy.
Article continues below advertisement
On Wednesday Arias confessed to the court that she had threatened Alexander she would tell people he was a pedophile as the ex-couple's relationship spiraled into a series of jealous arguments and physical fights.
"The only thing I'll be spitting out is the fact that you're a pedophile," Arias, 32, testified she told the 30-year-old motivational speaker, after he allegedly said he would expose all the "psycho" things she did, according to Arizona Republic reporter Michael Kiefer, who was in the Arizona courtroom.
Later in the day the testimony switched from sex to physical abuse as the petite murder defendant, who maintains she was acting in self defense when she stabbed Alexander 27 times before slitting his throat and shooting him, detailed how their dysfunctional relationship took a sudden and violent turn.
"Jodi said she would put up with abuse because the man who would treat her poorly also gave her positive reinforcement. She admits to continuing a dirty relationship on the phone and online despite being scared out of control by the lover she killed," explained KPNX-12 News reporter, Chris Williams from Phoenix.
Article continues below advertisement
"It was like a Chihuahua shakes, they, like tremble," Arias told the Maricopa County Court, as she alleged a pattern of alleged abuse, including claims Travis had choked her, broke her finger and kicked her in the ribs.
The alleged violence stepped up, Arias claimed, in the weeks and months after she allegedly discovered Alexander was attracted to young boys, forcing her to leave Arizona and move back to California — however, she didn't leave him outright because, she testified, "the nice times outweighed the bad."
Some of the "nice times" she referred to were the kinky sexcapades and dirty phone calls the Mormon couple had, which continued after they had officially broken up.
"We were always trying to top ourselves and go a little bit farther than the last time, usually he would come up with some creative ideas…Most of the time I was game for it," Arias testified.
Stay with RadarOnline.com for regular updates and daily live-streaming of the Jodi Arias murder trial.