Jodi Arias Trial Cliffhanger! Accused Murderer Spills All - Up To The Moment Just Before She Killed Travis Alexander!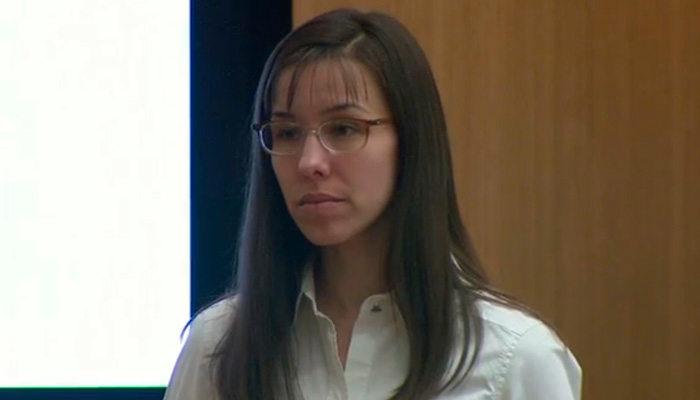 Jodi Arias takes the stand for an eighth day Wednesday in her bombshell murder trial in Phoenix, Arizona. On Tuesday, Arias again provided explicit testimony in her bid to prove her innocence, and had everyone in the Maricopa County Superior Court on the edge of their seats as she spilled details of her visit to Travis Alexander – right up to the moment just before she brutally killed him.
As Jodi set the scene for his grisly death by detailing how she was taking naked photos of her on-again-off-again boyfriend in the shower, the judge called for a recess until Wednesday – leaving avid followers of the trial with a dramatic cliffhanger!
Article continues below advertisement
In the testimony leading up to the highly-anticipated stabbing, shooting and throat-slitting, Arias explained how she was on a road trip to visit Ryan Burns in Utah when Travis persuaded her to make a diversion to Mesa, Arizona.
"He had been very sweet and guilting me and making me feel bad that I was taking this big trip and not seeing him. I told him 'No' the first few times, and one time he got angry," she testified, saying that when he talked to her in his "baby voice" she finally gave in.
When she arrived at his house on June 4, 2008, Arias said their interaction was far from childlike and innocent, testifying that Travis tied her up to his sleigh bed with a long rope and performed oral sex on her. "It is not my favorite but it is not unbearable. I wanted to go along with what he wanted to do because he liked those things," she said.
"At some point there were pictures and we had regular sex too… vanilla sex," explained Jodi, who began crying as she was shown the nude photos the couple had taken. The provocative pair went on to shoot a sex tape on her Olympus camera, Jodi testified, which they then watched and deleted.
Article continues below advertisement
After showering and throwing the sullied sheets in the washing machine, Jodi said she packed her bags and was preparing to hit the road for the rest of her journey, but claimed that while looking at CDs containing photos of their past trips together, Travis grew angry because the discs had a virus.
"He was getting mad because if I had given them to him when I was supposed to then they wouldn't be scratched… His tone, demeanor, movements and body language had changed," said Jodi, adding that she became "apprehensive."
She testified that after Travis began to lose his temper and threw a CD that ricocheted off the wall and landed on her head, she was worried "the whole trip would be ruined."
Jodi claimed she tried to calm the motivational speaker and devout Mormon by rubbing his back but that Travis spun her around, laid her over the desk and pushed up against her.
"He grabbed both my arms, spun and twisted my right arm behind my back. He was leaning his whole body against me and was kind of heavy," she testified. "I didn't want to make him even more p****d off. Usually when I went along with what he did he would settle down faster."
Article continues below advertisement
They went on to have sex yet again, she said -- and when asked if she had wanted to -- replied: "Well, yeah, actually I did. It was better than him getting mad," adding that she "wasn't angry" that he bent her over the desk.
"I didn't want him to leave angry and me to leave crying," she explained.
Once again the tone of the day switched gears completely, Jodi testified, as now that Travis was in a better mood she decided to hang out and they embarked on yet another photo shoot – but this time to showcase the weight Travis had lost for his upcoming Cancun trip.
"I was under the impression that he was taking his friends' babysitter to pay off a debt," Arias testified, when in fact it is now known he was taking another girl.
The jury was shown one of the last images of Travis ever taken - a nude photo of him where you can see the arm band that measured calories and vitals for his workout, before the scene was set for his death.
"We were going to take the photos in the bedroom, but we decided to do them in the shower," said Jodi, before the trial dramatically ended for the night.
Stay with RadarOnline.com for regular updates and daily live-streaming of the Jodi Arias murder trial on Wednesday.