Messages For A Dead Man: Prosecutor Slams Jodi Arias About Her Voicemail, Text & Email For Travis Alexander AFTER Killing Him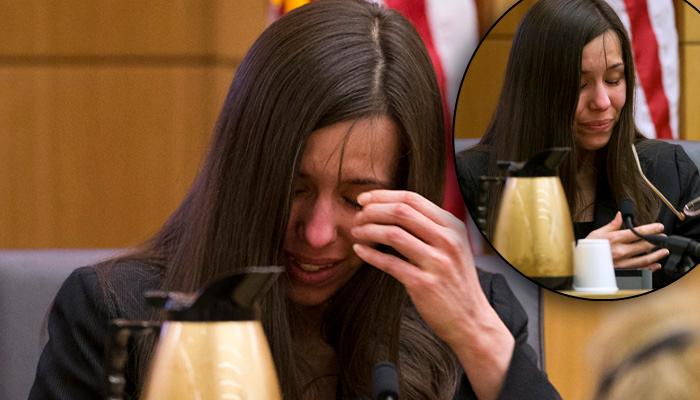 Jodi Arias left a cheery voicemail, sent a text message and a long email to ex boyfriend Travis Alexander AFTER brutally killing him, prosecutor Juan Martinez showed the jury Thursday while ending his cross-examination with a flourish.
"It's ok, sweetie, you're going to be here in less than two weeks – we're going to see the sights…be happy!" she emailed Alexander three days after shooting him in the face, stabbing him 27 times and slitting his throat.
Article continues below advertisement
"I hope you're not still upset that I didn't come to see you," she wrote.
On the upbeat voicemail Arias left hours after leaving Alexander's bloody body in his shower, she invited him to see Othello with her, ending with a happy, "Let me know. Talk to you soon. Bye."
Martinez did his best to drive home the impact of these phony messages.
"Did you send it so he could reach you from the grave?" the prosecutor asked sarcastically about one of the messages Arias left in the days after killing Alexander.
Arias, 30, is charged with first-degree murder and facing the death penalty. She claims she killed Alexander, 32, in self-defense after he flew into a rage on June 4, 2008.
Arias cried often during the day's session, with Martinez meticulously trying to poke holes in her self-defense claim.
And the prosecutor also showed a dramatic flair, once again leaning on the interview Arias gave TV show 48 hours for maximum impact to prove Arias was lying.
Article continues below advertisement
"No jury is going to convict me because I'm innocent and you can mark my words…no jury is going to convict me," Arias said during that interview, played for the jury late in the day.
She previously tried to explain that statement by saying she planned to commit suicide and that's why no jury would convict her, but Martinez seemed to have the upper hand in pointing out that wasn't consistent with her use of the word "innocent."
Several photos of Alexander's dead body were shown during Thursday's proceedings and Arias broke down in tears. But as Martinez tried to destroy her story from several angles she still insisted she remembered virtually nothing after shooting Alexander.
The prosecutor insisted Arias told a litany of lies about Alexander as he ended his cross-examination, challenging her assertion that she once caught him pleasuring himself to a photograph of a young boy, but failing to get her to agree that was a lie.
MORE ON:
Celebrity Justice
Article continues below advertisement
While debate will surely rage around the question if Arias' tears were real or staged, the defendant spent more of the day apparently rattled than her previous time on the stand.
Guiding Arias through Alexander's last minutes of life, the prosecutor closed the morning session with these powerful questions:
"Were you crying when you were shooting him?
"Were you crying when you were stabbing him?
"How about when you cut his throat, were you crying then?"
Arias took off her glasses, sobbed and put her head in her hands.
"You're the one who did this right? And you're the same individual that lied about all of this right?"
It was high drama in the Arizona courtroom as Arias answered in the affirmative, apparently shaken by Martinez showing a photograph of Alexander's partially obscured dead body in the shower.
Martinez challenged Arias' assertion that she was in a "fog" after Alexander allegedly tackled her in a rage and she shot him. She stuck to her story that she could not remember stabbing him.
Article continues below advertisement
The prosecutor played a tape where Arias told a police detective that Alexander did not have a gun, a huge contradiction with her self-defense story. Martinez also pointed out that at 5-foot-6 she would have had to step on one of Alexander's closet shelves to retrieve the gun from where she claimed it was. Photographs showed that nothing on the shelves appeared disturbed.
He also effectively pointed out that Arias removed rope from the crime scene, apparently immediately covering up what she had done.
"And you were trying to alter the crime scene, right?" the prosecutor barked. Arias answered: "It would appear that way."
The trial will resume Monday. Stay with RadarOnline.com for the latest details.