Jodi Arias Back In Court For Hearing Determining Next Phase In Sentencing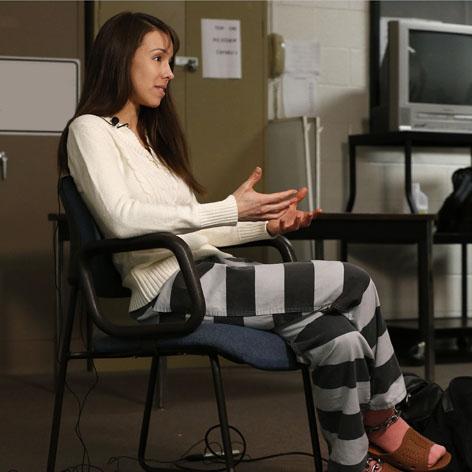 UPDATE: the Jodi Arias trial has been postponed and a status hearing was set for August 26, 2013. She appeared in court wearing her black and white striped prison uniform and shackles.
Convicted killer Jodi Arias will be back in court Tuesday, as her legal team will ask Judge Sherry Stephens to eliminate her death penalty eligibility, as established by the jury that found her guilty of first-degree murder May 8, saying she killed former lover Travis Alexander in an "especially cruel" way.
Article continues below advertisement
After the initial jury deadlocked over whether the convicted murderer should receive the death penalty, prosectors will be able to decide if a second jury should be concerned for a second penalty phase, or to remove it as an option.
Maricopa County Attorney Bill Montgomery last month said he and his office will to continue seek the death penalty, though he's recently said that might be willing to pass on a second phase after talking with Alexander's family, and defense lawyers.
A new penalty phase could add months of delays to the bottom line, as jury selection could potentially take weeks, and a full second penalty phase could take possibly months. If the second panel should deadlock, the judge will then issue Arias a sentence of life in prison, or 25 years with the eligibility of parole. (The death penalty would not be an option in that scenario.)
Watch the livestream on RadarOnline.com