Jodi Arias Jury Foreman Voted Against Death Penalty, Believed Travis Alexander 'Verbally & Mentally Abused Her'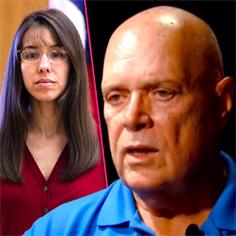 Jodi Arias has so far escaped the death penalty after the jury deadlocked over her sentence after convicting her of the first-degree murder of Travis Alexander and the jury foreman said that there was compelling evidence to give her life in prison.
"I did come down on the side of life," Bill Zervakos told AZ 3TV News AZFamily.com.
Despite the brutality of the murder, stabbing Travis 29 times, shooting him in the face and slitting his throat from ear to ear, Zervakos, known as Juror No. 18, said that he and three others couldn't give Jodi the death penalty.
Article continues below advertisement
"All of the testimony that I listened to and that I actually heard and read, I do believe he verbally and mentally abused her," he said about Travis' actions toward Jodi.
"Again, it's not an excuse and I'm not painting Jodi Arias as a sympathetic figure."
Zervakos says he thought there were three mitigating factors that caused him not to vote for the death penalty: Jodi's age, 27 and her lack of criminal history, her "dysfunctional family" and his belief in her claims of verbal and mental abuse by Travis.
However, Zervakos said that his belief in her claims does not diminish the death of Travis.
"I don't mean to slander him," Zervakos said and described Jodi and Travis' relationship as "toxic."
"He didn't deserve to die," Zervakos said. "Jodi has got to pay for it and she's going to."
Eight jurors disagreed with Zervakos, wanting to give Jodi the death penalty, and he said the pressures of the trial were intense.
Article continues below advertisement
"I just wanted people to understand the toll it took on people because it took a hell of a toll."
Zervakos said that after five months together the jurors were still professional with each other.
"We didn't become friends in there," he said.
"We had a lot of respect for each other. I respect all of them, although I disagree with eight of them. I think everybody did absolutely the best job that they could in the situation that we were in."
Jodi remains in the Estrella jail and a status conference is scheduled for June 20 with a new trial date slated for July 18.