Exclusive
Phone Call From Jail – Jenelle Evans' Incarcerated Husband Brags About Getting Her To Marry Him After Just 13 Days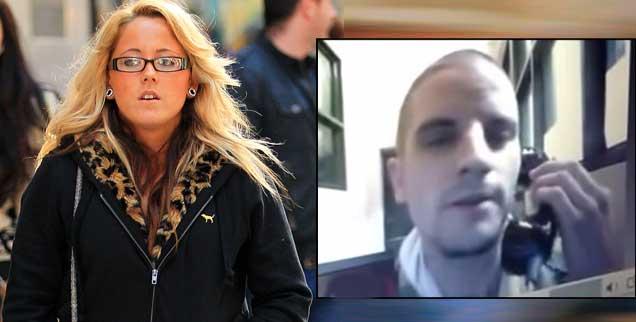 Article continues below advertisement
"It sucks to being in jail for something I didn't do," Courtland, wearing his prison stripes, says to his friend on the video.
"But at the same time I'm content. What can I do? Sit here and be sad and sh*t?
"Hell no I'm not the sad type of guy that's why she fell in love with me so fast," he says about his wife Jenelle, who sources told RadarOnline.com plans to file for divorce from as soon as possible.
Then he says Jenelle, 21, loves him "Because I'm such an outgoing person."
Bringing up her dating history, Courtland brags about how she fell for him and not Gary Head or Kieffer Delp.
"It took Kieffer two years being engaged and they still didn't get married," Courtland says and continues his boasting.
"And then Gary was engaged for a year and a half and they still didn't get married."
Jenelle's husband says his magnetic personality was so overwhelming she just couldn't resist his charms.
"I was engaged to her for 13 days and I married her!"
Courtland is still in jail because when he was arrested he was on probation and has a $50,000 secure bond that he is unable to pay.
radar_embed service=youtube src="https://www.youtube.com/embed/jY3eQkzqEfw" width="560" height="315"