'Teen Mom' Fight Explodes! Jenelle Battles Chelsea's Dad: 'Hey Fat F**k'
Do not mess with Jenelle!
Evans slammed Chelsea Houska's father exclusively to RadarOnline.com after he ripped into her on social media, igniting an epic Teen Mom 2 feud.
"It is good to scream at each other in front of the kids, it teaches them great things," Randy Houska tweeted Monday night while Evans, 25, and her mother Barbara were engaged in a war of words on the MTV show.
Evans hit back on Twitter, dropping the f-bomb on her co-star's dad!
Article continues below advertisement
"Hey fat f**k, i am so sick of you commenting on my life. go tend to your own family. you don't know a f**king thing i've been through," she wrote before deleting the post.
"I don't give two s**ts anymore. not any other parent comments about me negatively except randy. nothing positive, ever."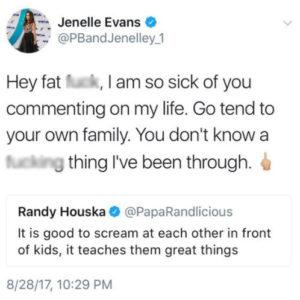 Evans told RadarOnline.com that even though she took down the Tweets, she's still furious with her costar's father.
"I wish he would stop," she said. "He doesn't know me or what I have to deal with when it comes to my mom. Yes, of course my mom brings out the worst in me so we are bound to argue sometimes, but it's gotten better and everything is a lot more calmer on my end."
The mother of three slammed the elder Houska to RadarOnline.com, dragging her former friend's storyline about her daughter Aubree's difficulty adjusting to having a newborn sibling into the fight.
"He should be more focused on Aubree being ignored, since all they show is me yelling and if that's true and that's all we do 24/7...then I guess MTV is true about Aubree being ignored since Watson has been born."
Evans claimed she's not as hostile as she's portrayed on TV.
Article continues below advertisement
"The only time I'm angry is if my mom comes around," she told RadarOnline.com.
"I'm not as bad as a person Randy thinks, but if he wants to spend his time checking Twitter daily like it's his job, then so be it. He's just now another creepy Teen Mom troll in my book."
"Maybe that's why Aubree is ignored…his attention is dedicated to Twitter, not his family."
"He just makes it look like I'm psycho. He never has anything nice to say and I don't say a damn thing about him. I don't get it."
Following the MTV VMA's, Evans was in Los Angeles with her fiancé David Eason when she saw Houska's Tweets.
She said MTV producers were getting involved.
"He ruined my dinner with David in Santa Monica, making me cry because I was so upset by him making these comments over the years. Larry my producer texted me telling me he was extremely sorry for Randy's actions and agreed it was wrong and will be reaching out to him about his behavior."
When reached by RadarOnline.com, Houska had no comment about the fight.
We pay for juicy info! Do you have a story for RadarOnline.com? Email us at tips@radaronline.com, or call us at 800-344-9598 any time, day or night.