Jenelle Evans Accuses Mom Barbara Of Drunk Driving With Son Jace In The Car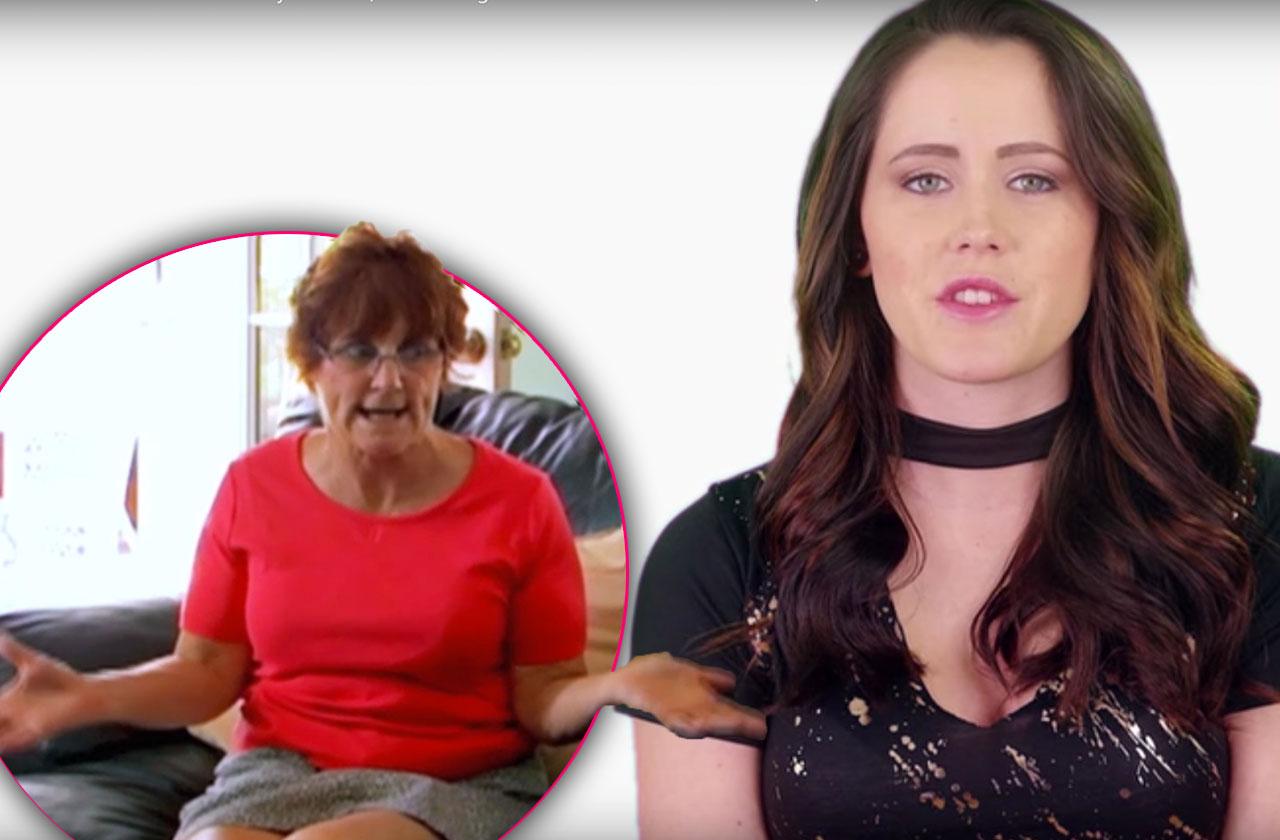 Jenelle Evans is usually the one breaking the law – but this time she's accusing her mother of a crime. On this week's Teen Mom 2, Evans suspects her mother is drunk driving with three children in the backseat.
On this week's episode, Evans explained that she has a court hearing coming up with her mother Barbara regarding their custody battle over her son Jace.
"My number one choice is I get full custody," she explained to fiancé David Eason of Jace "But ultimately it's what the judge decides."
Article continues below advertisement
Despite fighting for custody, Barbara claimed to a producer that Jace wants to remain with her.
"Jace is very upset about it," she explained. "The other night he sat home and cried like a baby. He begged me, 'Don't send me to mommy's. I want to stay home with you. Maryssa and David are very mean to me.' All he wants is Jenelle's attention."
But in an effort to win her custody battle, Eason filmed Barbara drinking before driving home with Jace and her two other grandchildren in the car.
"Mom you're drinking with three kids," Evans said in the video filmed by Eason, as Barbara responded, "I didn't have anything to drink."
When Evans told her to take a taxi home, she responded, "I'm not drinking. I'm having dinner with my friends. Get that f**king camera off me. You hear me! I am not drinking. I had one sip of wine. How many times has David been drinking and driving? Jace tells me all the time."
Article continues below advertisement
When Eason demanded Jace go home with them, Barbara fired back at Eason, "Jace will never come with you. You especially. He tells me what you do."
But the drama didn't stop there, as Evans explained that she called the cops on her mom when she refused to answer the door later on in the evening.
"The police came and I was like, 'I don't know if my mom is passed out and the kids are there," she explained.
The cops got in touch with Barbara and advised Evans to leave.
Also on the episode, Leah Messer explained that the hospital found nothing wrong with her daughter Ali, who suffers from a rare form of muscular dystrophy, after she complained of having trouble breathing.
"They thought it might have been indigestion," ex-husband Corey Simms explained. "She has an appointment coming up in Columbus so we'll see what the doctor thinks. Her breathing is part of MD, it affects everything, every muscle in you. They mentioned breathing and all that can be an issue in the future."
Article continues below advertisement
Messer then drives her daughter to the appointment in Ohio, as she advises her to use her wheelchair for the time being.
The drama continued with Briana DeJesus, as she learned her baby daddy will be moving 30 minutes away from her.
"He's saying he's looking for places on the East Side, he's not going to come closer to where I'm at," DeJesus explained to a friend. "That's not going to work for me. If we're going to co-parent, he's going to be close to help me out, but he's going to be 30 minutes away. That's the same thing that happened with Devoin Austin."
As readers know, Luis Hernandez cheated on DeJesus during her pregnancy. Although he insisted he would co-parent, she didn't believe him because the father of her daughter Nova has been in and out of their lives.
"I have to better myself to better Stella and to better you," he promised, as Dejesus responded, "Time is ticking, I don't have time for words anymore."
But the episode wasn't all drama, as Kailyn Lowry improved her co-parenting relationship with ex-husband Javi Marroquin by dropping the protection from abuse order against him.
Article continues below advertisement
"At the end of the day, I think we both owed it to Lincoln that both of his parents be at his practices and be civil in the same room," Marroquin told her. "I'm glad we can put it behind us and be at the boys' sporting events and move on from there."
Lowry and Marroquin even got along at their son's soccer game.
"When was the last time we were together like this?" Marroquin asked. "Who would have ever thought we would be here? It's weird and cool at the same time."
As for Chelsea Houska, she admitted to wanting to have more children with husband Cole DeBoer.
"We have baby fever already," she explained to a friend. "I just want to have baby Coles. I feel like it would be fun to have kids really close together. We need to be patient, but I can't help it."
Teen Mom 2 airs Mondays at 9/8c on MTV.
We pay for juicy info! Do you have a story for RadarOnline.com? Email us at tips@radaronline.com, or call us at 800-344-9598 any time, day or night.