Jealous Glares And Floods Of Tears! Jodi Arias Breaks Down In Court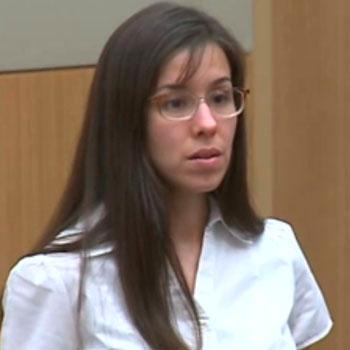 Being faced with both old footage of her and Travis Alexander in happier times and a former girlfriend who brought out her green eyed monster, Tuesday was a difficult day in court for murder defendant Jodi Arias.
The challenging 51st day of the trial began when prosecutor Juan Martinez played a video of Jodi and Travis, shot in 2007 by friend Jacob Mefford, who told the Maricopa County Court how they were were "affectionate, like a couple."
Article continues below advertisement
In a still photo shown to jurors, Jodi is seen beaming with joy wearing a white hotel robe, leaning against Alexander who is kissing her on the back of the head, reported from the Arizona Republic.
The sentimental flashback was all Martinez wanted from his witness, but it was enough to get Jodi crying in court before her former Pre-Paid Legal colleague Mefford was handed over to defense attorney, Kirk Nurmi.
Another blast from the past was even harder for the femme fatale killer to face as Travis' ex-girlfriend Deanna Reid, whom he dated in 2000 before she went to Costa Rica as a Mormon missionary, took the stand.
After her 18 month stint abroad serving the church, Reid and Alexander reunited and embarked on an exclusive relationship, which was no doubt hard for Jodi to hear considering her desperation to make him her boyfriend!
Article continues below advertisement
"Travis never laid a hand on me… never called me names, never abused me, never touched me in an improper fashion," Reid told the court, explaining that although they split in 2005 because she was ready for marriage and he wasn't, "we continued to be close even after breaking up," she said. She even adopted his dog, Napoleon, after his murder.
Despite their devotion to their religion, Deanna admitted to having sex with Travis but bluntly told defense attorney Nurmi: "That was our private business," when he asked how it fit in the with church. "He was always a gentleman," she later emphasized to Martinez.