Jacqueline Laurita Talks About Teresa and Her Brother Joe's Embrace On RHONJ: 'I Cried'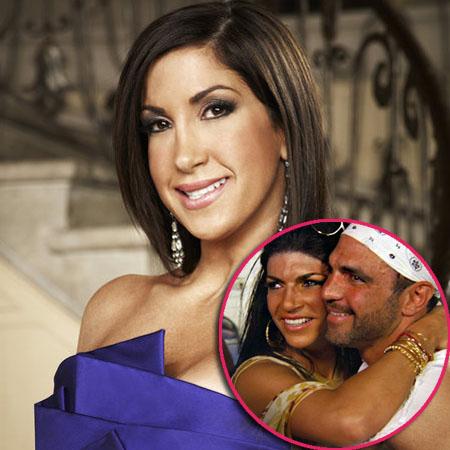 Article continues below advertisement
Jacqueline was joined on the program by actress and self-described Real Housewives superfan Rebecca Romijn.
Rebecca declared, "That moment with Teresa and Joe for me was one of the most honest moments I've ever seen on any of the Real Housewives shows. I couldn't believe they let it all out."
Meanwhile, Jacqueline addressed Teresa and her husband Joe's comments that she was a "wack job."
"I've never been on medication. I don't even take Tylenol or Advil," Jacqueline said. "I don't know where that came from. You know what? When you're angry at someone, you say things. I said stuff about her, she said stuff about me. That's what you do when you've been hurt by someone."
Is a reconciliation between Jacqueline and Teresa possible? "Oooh! Miracle's happen this season " Jacqueline teased. "Watch and see!"
She also commented on the feud between Teresa and her sister-in-law, Melissa Gorga, "It's just built up. I think they're taking turns at giving it to each other."
At Andy's prompting, Jacqueline addressed Teresa's husband Joe Guidice's remark that Jacqueline's son Nicholas having autism wasn't such a big deal.
Article continues below advertisement
She said, "I know a lot of people got really hard on Joe for the autism comment but I know Joe and I think he was acknowledging the brilliance and intelligence in a lot of the children on the spectrum but I think he has lack of knowledge about how much time and attention and focus and work goes into raising a child with special needs."
The real housewife wanted fans to know Nicholas has been doing "amazingly well. Tonight he spelled a word while the show was on. He spelt out 'warning' with his magnetic letters."
Although Jacqueline enjoyed watching Teresa and brother Joe mend fences, she isn't sorry she refused to attend the family retreat. "The whole thing was about her mending with her family. I felt like I had no business being there. I would be a distraction; it would be her and I arguing or blame-shifting, and the focus really needed to be on her family."
In another bizarre Watch What Happens Live moment, Lori Michaels, the ex-girlfriend of former RHONJ star Danielle Staub, tended bar in the Bravo clubhouse during Andy's talk show.
Article continues below advertisement
Danielle had sung a lesbian lullabye, Real Close, to Lori on a long ago Watch What Happens Live episode, but Lori said she and Danielle didn't stay in touch. "No. We don't even really say hello in our neighborhood Whole Foods or Starbucks establishments," she told Andy.
Rebecca revealed she has sung Real Close -- and has celebrated other Real Housewives milestones with friends!
Watch the video on RadarOnline.com
"We do something called the Real Real Housewives where we do transcripted versions of some of the famous scenes from the Housewives," Rebecca laughed. Now, the King and Maxwell TNT star who has just joined Twitter, expects to Tweet up a storm about her favorite Bravo shows!