Jacqueline Laurita Says Teresa Giudice 'Brings Out The Worst In Me'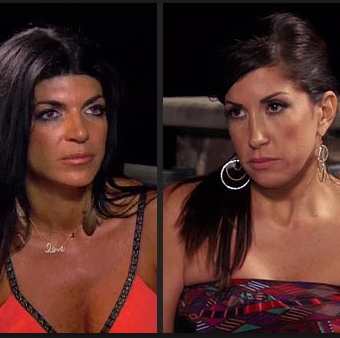 Real Housewives of New Jersey stars Jacqueline Laurita and Teresa Giudice have an ongoing feud that may never get resolved, and Jacqueline says it's because Teresa brings out the worst in her.
Last Sunday's episode featured a retreat to Lake George, but Jacqueline says she didn't go because she thought Teresa was going to use the trip to work on family issues.
"I was not part of Teresa's family, and at that point, I had no desire to try and mend any sort of relationship with Teresa. I heard that she was constantly talking behind my back, and it was obvious to me that she had no desire to mend things with me either," Jacqueline wrote on her Bravo blog.
Article continues below advertisement
"Being dared to go on the trip isn't exactly extending an olive branch. It sounded more like she was waiting to beat me over the head with it."
Adding to the tension was a heated phone call Jacqueline had with Teresa.
"I felt like I had enough on my plate without adding a pile of nonsense to it. That last phone call with Teresa was a reminder of how she brings out the worst in me," Jacqueline wrote.
"I didn't need extra stress in my life. My focus needed to be on my own family and their needs."
Even worse, Jacqueline says she let Teresa get under her skin and posted a vague tweet that she says wasn't about Teresa, but was inspired by her.
"Right after the nasty phone call with Teresa, I was so annoyed that I let her get me upset again. I decided to tweet: 'When you argue with a moron, you become a moron. You have to rise above and remember who and what is really important in life. Some things don't matter. Let it go,'" she wrote.
Article continues below advertisement
"My tweet wasn't directed at Teresa, but, it was most definitely inspired by her and her people that were hate tweeting me.
"It was a reminder for me not to let Teresa get to me anymore, to stop reacting to her ridiculous accusations, and to keep my focus on more important things that matter in my life. I may react impulsively at times, but if I feel a certain way about something or someone, I have no problem expressing how I feel and owning it, publicly or not.
Finally, Jacqueline admits both she and Teresa are guilty of saying hurtful things about each other.
"Teresa may not have tweeted derogatory things about me, but I believed she was still voicing her strong opinions of me through other avenues and would get mutual acquaintances to be her voice for her," she wrote.
"We are both guilty about having talked badly about each other."
Will these two ever hash it out and become friends, or will they continue to fight? Sound off below…