If They're Faking It They Deserve Oscars! Lisa Vanderpump And Kyle Richards Insane Fight -- TEAR Into Each Other!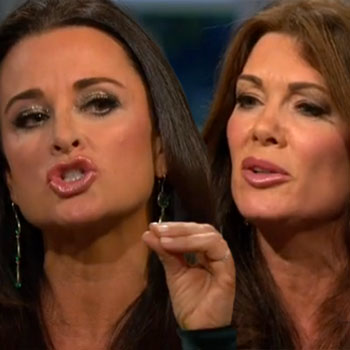 Article continues below advertisement
It all starts with host Andy Cohen reading out a question to Richards from a Housewives fan: "Kyle sat on the fence during all the drama but it always seemed like your friend Faye had plenty to say - is Faye on your payroll -- is she a friend, or some one who invoices you?"
And, let the fireworks begin!
Richards starts off calmly enough: "She is not on my payroll - oh, well, she designed my home, but no, she is not on my payroll...."
But, before she can finish Vanderpump jumps in: "Oh come on! She works for you!" She exclaims in disbelief.
Then, as Kyle tries to deny the accusation, the action really ramps up!
Vanderpump tears into Richards accusing her of using Resnick as her mouthpiece for attacks against her and against Brandi Glanvile -- and slams Faye, claiming, "She's so desperate for camera time, that she will go after anything just to make her big mark!"
Article continues below advertisement
As RadarOnline.com exclusively reported, Vanderpump is apparently way off the mark with her fame hungry accusations against Resnick!
In fact, the successful designer is quitting the reality show, as she is sick of the drama and has claimed it is ruining her life!
"Faye is a tough cookie, so for her to say that things have become so bad that she is finished with the show, is a big development," a source previously told Radar. "She's a very successful interior designer and being on the show is just bad for business — not to mention the fact that Faye says it is ruining her life.
Article continues below advertisement
Meanwhile, Resnick's decision to quit the Real Housewives is bound to cause yet more headaches for show producers, who, as previously reported, are already struggling to attract new talent to appear on the televised bitchfest.
"Several women who have been approached have turned Bravo down because they don't want to become the latest target for all the bitchiness!" a source said.