Jackie Martling Says He Was Almost Left Out Of Howard Stern's Movie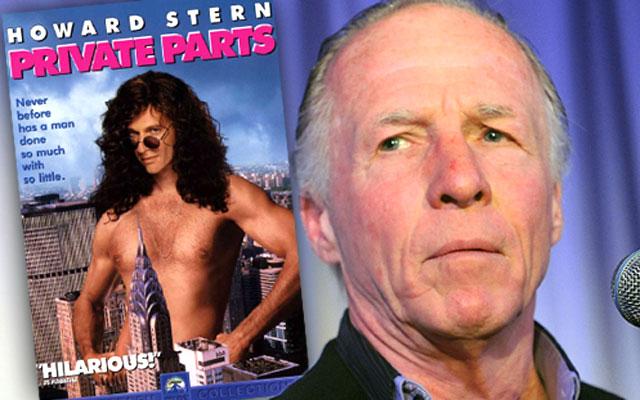 Howard Stern's former head writer Jackie "The Jokeman" Martling revealed Monday that he was almost left on the cutting room floor of the radio icon's famed 1997 biopic, Private Parts.
Martling, 67, shared the story on Artie Lange's Uncensored Podcast with Lange, the comedian who would eventually fill his seat on the radio show after he left over a salary dispute in February 2001. (Prior to that, the fan favorite Martling was associated with the show since 1983, with his main duty being to feed the shock jock with hysterical one-liners tailored to the real-time content of the show.)
Article continues below advertisement
"They were doing a movie — a Howard Stern movie, without me in it — I didn't exist," the Long Island native told Lange. "They didn't tell me about the movie, I don't know if you know that whole f**king story … it's like when somebody's not invited to the party."
Martling said he came to learn about Stern's silver screen plans through a dead giveaway circulating the offices of K-Rock, the New York City radio station Stern called home for three decades before beginning his current run on satellite.
"I'm sitting there in a foxhole, this is in the small studio … and all of a sudden, people are walking into work with a hat on with an 'H' on it. I'm like, 'What the f**k's going on?'''
Martling said he came to find out that the King of All Media had set up a production office at the radio station, and when he asked Stern about the eye-raising situation, Stern stuttered and stammered for an answer until eventually letting him in on what was happening.
Article continues below advertisement
"And then I guess the whole thing came apart, and Howard came up and said, 'We're starting my movie again, I didn't like the way it was going, they — they — left out some of my guys," the Bayville, New York native recalled.
Lange asked, "So they were trying to do the movie without you in it?"
"Like I didn't exist!" Martling said, explaining the rationale he figured that went into the quizzical decision.
"I don't think somebody was going to play me; they didn't want to have a guy there passing notes," Martling said, implying that his presence in the film might have undermined the notion of Stern's comedic brilliance as an ad-libber to audiences not familiar with the inner-workings of the hit radio show.
Lange asked Martling, "What was that about Jack, was it about money, you think? Or some kind of contempt toward you?"
Article continues below advertisement
Martling said the answer was neither, referring back to the idea that showcasing his key role might have gone against the grain in what the film was trying to portray.
"What did I do on the show?" he said. "So they're going to show the radio show with me passing notes?"
He added that when he finally did make it into the film, it was in more of an introductory context, as opposed to showcasing his most vital of roles on the radio program.
Watch the Video on RadarOnline.com (WARNING: Content Contains Explicit Language)
"What happens in the movie? The movie ends, and here's our new guy, Jackie Martling."
When Lange asked Martling if he thought that Stern didn't want to play up the fact that he was using a comedy writer, Martling said, "I don't know, I've never had that conversation.
"But he point is, I'm sitting there, we're doing a show, I'm passing notes, and we got the greatest f**king show in the world going on, but they're making a movie about the show that we're doing — that I'm not in!"
Article continues below advertisement
"It's a movie about the Beatles but without George Harrison," Lange, 48, joked.
Martling said he wasn't making "a whole big bitter thing thing about it," and that "everything rolled off his back" on the insult-heavy comedy program.
"It isn't about a bitter thing, I get where you're coming from, it's just about telling the truth," Lange said. "You're be honest about your feelings there without any hate in your heart."
Private Parts marked Stern's first and only starring role in a feature film, performing modestly with $41.2 million in box office revenues, making it the 56th top-grossing film of the year, according to BoxOfficeMojo.
Jackie Martling stars in "The Jackie Martling Show" 8 p.m. every Monday at New York City's Broadway Comedy Club. Artie Lange's Uncensored Podcast is available at artiequitter.com. Live editions of The Howard Stern Show air on SiriusXM Mondays thru Wednesdays.