Ben Affleck, Les Miserables Among Big Winners At Golden Globe Awards 2013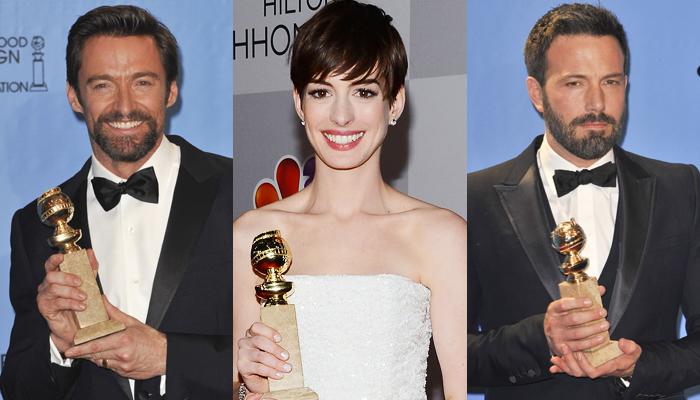 Ben Affleck continued to put an exclamation point on his Oscar snub, and Les Miserables had a dreamy night, at the 70th annual Golden Globes Sunday at The Beverly Hilton Hotel in Los Angeles.
Argo director Affleck took home the honors for best director and best motion picture drama just days after he was snubbed without an Academy Award nomination for his direction in the critically-acclaimed movie.
Article continues below advertisement
With the win for best director, Affleck defeated a who's who list of Hollywood heavyweights -- Steven Spielberg, Ang Lee, Kathryn Bigelow and Quentin Tarantino. He said in his acceptance speech: "Look, I don't care what the award is. When they put your name next to the names presenter Halle Berry just read off, it's an extraordinary thing in your life.
"These nominees are exceptional talents -- I truly to God never thought I would be in the same breath as them."
Les Miserables, based on Victor Hugo's novel, collected the honors for best picture musical or comedy, best actor (Hugh Jackman) and best supporting actress (Anne Hathaway) in a banner night.
In her acceptance speech, Hathaway called the Golden Globe statuette a "lovely blunt object that I will forevermore use as a weapon against self-doubt."
Jackman, one of millions currently suffering from a widespread flu epidemic, joked, "I was kicking myself for not getting the flu shot, but it appears that you don't need one. I feel great!"
Article continues below advertisement
While Lincoln leads all Oscar nominees with a dozen nods, the Spielberg-directed film only cashed in one award on the night, a best actor win for leading man Daniel Day-Lewis .
"If I had this on a timeshare basis with my wonderful gifted colleagues, I might just hope to keep it for one day of the year, and I'd be happy with that," Day-Lewis, a two-time Oscar winner, said in accepting the award.
Watch the videos on RadarOnline.com
***
Best Supporting Actor in a Motion Picture - Christoph Waltz, Django Unchained
Best Supporting Actress in a Series, Miniseries or TV Movie - Maggie Smith, Downton Abbey
Best Mini-Series or TV Movie - Game Change
Best Actress in a Mini-Series or TV Movie - Julianne Moore, Game Change
Article continues below advertisement
Best Actor in a TV Series, Drama - Damian Lewis, Homeland
Best TV Series, Drama - Homeland
Best Original Score - Mychael Danna, Life of Pi
Best Original Song - Skyfall, Music and Lyrics by Adele and Paul Epworth
Best Actor in a Mini-Series or TV Movie - Kevin Costner, Hatfields & McCoys
Best Actress in a Motion Picture, Musical or Comedy - Jennifer Lawrence, Silver Linings Playbook
Best Supporting Actor in a TV Series, Mini-Series or TV Movie - Ed Harris, Game Change
Best Supporting Actress in a Motion Picture - Anne Hathaway, Les Miserables
Best Screenplay for a Motion Picture - Quentin Tarantino, Django Unchained
Best Actor in a TV Series, Comedy or Musical - Don Cheadle, House of Lies
Best Foreign Film - Amour, Austria
Best Actress in a TV Series, Drama - Claire Danes, Homeland
Best Animated Feature Film - Brave
Best Actress in a TV Series, Comedy - Lena Dunham, Girls
Article continues below advertisement
Cecil B. DeMille Lifetime Achievement Award - Jodie Foster
Best Director - Ben Affleck, Argo
Best TV Series, Comedy or Musical - Girls
Best Actor in a Motion Picture, Comedy or Musical - Hugh Jackman, Les Miserables
Best Motion Picture, Comedy or Musical - Les Miserables
Best Actress in a Motion Picture, Drama - Jessica Chastain, Zero Dark Thirty
Best Actor in a Motion Picture, Drama - Daniel Day-Lewis, Lincoln