Matt Lauer To Anne Hathaway About Flashing Photographers: 'Seen A Lot Of You Lately'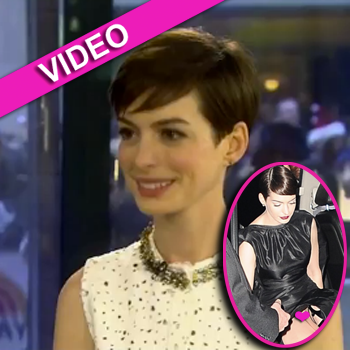 Jimmy Fallon didn't go there when Anne Hathaway appeared on his talk show Tuesday night, but Matt Lauer certainly did Wednesday morning.
The TODAY host asked a sheepish Anne Hathaway about her embarrassing moment at the New York premiere of her new film Les Miserables Monday when she inadvertently flashed photographers as she exited out of her SUV - unfortunately, she was not wearing underwear.
Article continues below advertisement
Lauer started the interview by awkwardly saying: "Anne Hathaway, good morning, nice to see you. Seen a lot of you lately."
"Sorry about that," Hathaway replied with a shaky laugh. "I'd be happy to stay home, but the film."
"Let's just get it out of the way," Lauer continued. "You had a little wardrobe malfunction the other night. What's the lesson learned from something like that, other than that you keep smiling, which you'll always do."
In response to Lauer's incredibly awkward question, Hathaway responded: "Well, it was obviously an unfortunate incident. It kind of made me sad on two accounts. One was that I was very sad that we live in an age when someone takes a picture of another person in a vulnerable moment, and rather than delete it and do the decent thing, sells it. And I'm sorry that we live in a culture that commodifies sexuality of unwilling participants, which brings us back to Les Mis, because that's what the character Fantine is. She is someone who is forced to sell sex to benefit her child because she has nothing and there's no social safety net so yeah, let's get back to Les Mis."
Article continues below advertisement
A day before her appearance on TODAY, Hathaway, speaking with Vanity Fair journalist Ingrid Sischy at a luncheon in New York on Tuesday, reportedly said about the incident: "I was getting out of the car and my dress was so tight that I didn't realize it until I saw all the photographers' flashes," the Devil Wears Prada beauty recalled of the circumstances that led to the revealing moment. "It was devastating."
Despite the fuss over her embarrassing moment, Hathaway does have reason to celebrate this week - on Wednesday, she scored a Screen Actors Guild nomination as best supporting actress for her role in Les Mis, and she's expected to capture a Golden Globe nomination Thursday morning, when the nominations are announced at 5 a.m. PT/8 a.m. ET., which RadarOnline.com will live stream.
Visit NBCNews.com for breaking news, world news, and news about the economy