Exclusive
Farrah Abraham's XXX Sex Tape Partner Slams Pregnancy Publicity Stunt: It's Offensive, Disgusting & Not Cool!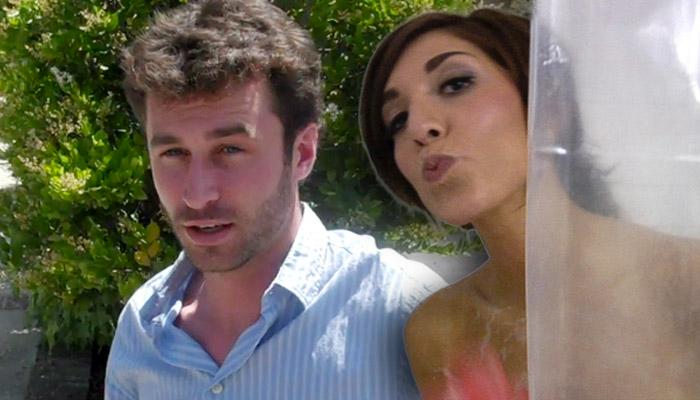 Farrah Abraham recently sparked rumors that her porn flick co-star got her pregnant, but James Deen told RadarOnline.com in an exclusive video interview that he believes the former Teen Mom star is just using the publicity stunt to boost sales of their XXX-rated romp — and he's disgusted by it.
Not only does James think Farrah's not pregnant, but he says there isn't even the risk that the reality TV diva got knocked up during their sex session.
Article continues below advertisement
"When you are talking pregnancy you are talking about three lives; the two lives of the people involved and the unborn child. That is a lifelong thing," the adult film actor told RadarOnline.com on Wednesday.
"I really don't think that is a very cool thing to do. I don't agree with these publicity stunts in general. When people talk about me it doesn't really affect me… but when you start talking about pregnancy and human life, that's when it gets offensive," revealed the 2010 AVN Male Performer Of The Year, who had previously defended the 21-year-old single mother's decision sell a sex tape.
As RadarOnline.com previously reported, Farrah Superstar: Back Door Teen Mom earned Abraham a whopping $1.5 million from Vivid Entertainment, and this week she spent some of those earnings at her local drug store where she publicly purchased a pregnancy test, claiming that James has been her only sex partner in the last year.
If Farrah, who already has a 4-year-old daughter named Sophia, had really been expecting his child James candidly told RadarOnline.com that "would be a whole thing" and he doesn't know how he would react to the unlikely scenario.
Article continues below advertisement
radar_embed service=5min.com src="http://pshared.5min.com/Scripts/PlayerSeed.js?sid=1126&width=570&height=351&playList=517781918&sequential=1&shuffle=0"
"I have absolutely no idea. But I can't imagine she is, considering I talked to my doctor as well as the clinic that we got (STD) tested at – she was on her period at the time that we shot the scene and she had a sponge inside of her," he said, adding that the nature of the sex they had also makes pregnancy a very long shot.
"The probability is very, very low. In addition, before I accepted this video, my two requirements for Vivid were one, that she was tested the same way that all adult performers are, and two, that she was on birth control," explained 27-year-old James, who did not use a condom during the taped romp.
"Vivid swore to me that she was on birth control, therefore… I don't know, I kind of feel betrayed by Vivid because they lied to me. I think that she was on birth control but I keep getting sent things by various people that she was supposedly on birth control and it was all a lie, or that her people say she wasn't — so I have no idea what was true.
Article continues below advertisement
"All I know is that it is not a very cool thing to do and I don't realistically think it is a possibility. If it is, then that is going to be a whole big event that will be addressed," he explained.
Despite the explosion of tabloid rumors and backstabbing, James said that he doesn't regret being involved in Farrah's first – and what she claims will be her only — porn film.
"It is not like, 'he broke a contract' – there was no contract so there is no way to respond to that," James told RadarOnline.com of Farrah's public bashing of him for speaking about the sex tape, noting that he remains perplexed that the Teen Mom star has stooped so low — but still gives her props for her performance.
"The scene is really, really good and I think it is a good porno. It's an amazing scene and I thought I did really well. But I don't know, maybe I did a horrible job but I shot it pretty cooly and I think she did a good job. I thought all around everything was fantastic so I have no regrets," he concluded.
"I am just a little disappointed in the marketing strategy that has been created because of it."