Family Circus! Kate Gosselin Returns To TLC With Party-Planning Special For Sextuplets' 10th Birthday, Deals With Precocious Teen Twins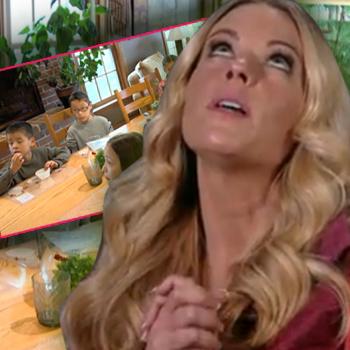 The Gosselins are back!
The extended family that dominated the tabloid headlines and TV ratings just five years ago returned to TLC's lineup on Thursday, with the first of a two-part special dubbed Kate Plus Eight: Sextuplets Turn 10, documenting the milestone 10th birthday for her sextuplets Aaden, Alexis, Collin, Hannah, Joel and Leah.
The special centered around Kate Gosselin's elaborate plants for an unforgettable, "huge, real life-size grown-up carnival" with the kids' involvement, as she noted that "it's very hard to find a theme that six kids are all excited about."
Article continues below advertisement
Watch the video on RadarOnline.com
Viewers Thursday might have been a bit taken aback by the rapid development of the very precocious children -- in particular the sextuplets' older sisters, 13-year-old twins Cara and Mady -- and their transition from mommy's girls to the beginnings of teen angst, as Mady called herself "an awful role model" to her younger siblings.
"This is stupid: I don't want to be a part of this," Mady griped of the party, adding, "This isn't my birthday, so I don't care."
In another instance, Kate took on — and vanquished — Mady at a game of gaga ball, as the competitive mom said, "I have a problem with parents who let their kids win, because nobody is going to let me win."
One way Kate has been able to control to the sometimes-defiant duo is through technology, as she boasted, "I got those girls cell phones and iPads so I could take them away."
Thankfully for Kate, the mother-of-eight said she was relieved by the growing autonomy amongst the sextuplets, noting how they function like a team and are there to help pick one another up when the time calls for it.
In the special, Kate also proudly showed off her gorgeous, Rice Krispie-craving pet bird named Zorro, adding to the reality TV family's home menagerie of chicken, fish and a dog.
The first half ended with Kate wrapping up plans for the kids and the party, with things seemingly going smoothly — but did they? We'll find out next week when the second installment of Kate Plus Eight: Sextuplets Turn 10 airs Thursday at 10/9c TLC.