Gosselin Kids Revolt — AGAIN! Watch Eldest Daughters Mady & Cara Defy Monster Mom Kate, Complaining, 'This Isn't Fun. I Don't Want To Be A Part Of It'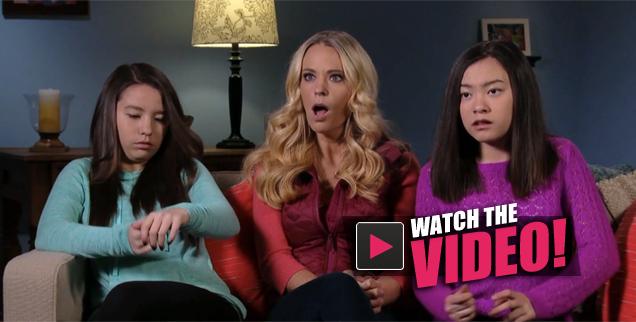 Gosselin twins Cara and Mady's strained Today show appearance with monster mom Kate was apparently only the beginning of their awkward and defiant on-camera appearances. In a new promo clip for Kate's upcoming special, Kate Plus Eight: Sextuplets Turn Ten, the 13-year-olds roll their eyes at the camera, make their mom gasp, and insist they "don't want to be a part of" the show.
"This is stupid. This isn't fun. I don't want to be a part of it," Mady complains in one scene during the clip, before glaring at the camera and stalking off screen.
Article continues below advertisement
And things only got more tense during her confessional with sister Cara — with mom Kate sitting in the middle to help shape their answers.
Asked whether the teens felt they were good role models for their six younger siblings, Mady barked, "No. They better not. I mean, I'm an awful role model ugh."
Aghast, Kate gaped at the camera, before insisting, "Mady, why are you so hard on yourself. She's a wonderful big sister … The sextuplets look up to them."
"They have such bad hair," Mady interrupted, while her mom gasped. "I can't. They dress themselves and they shouldn't."
Meanwhile, an embarrassed Cara simply stared into her lap.
And it seems that now, even the younger kids are getting into the habit of making their mom look bad on-screen.
In another section of the clip, one of the sextuplets mocks Kate, complaining in a whiny voice that their mother often says, "I'm so tired! I don't want to do any of this!"
Watch the preview clip and let us know — Do you think the Gosselin kids are excited about their return to TV?