Exclusive
He-Said-She-Said! Jon & Kate Gosselin FEUD Over Who's Watching Their Children While She Films 'Celebrity Apprentice'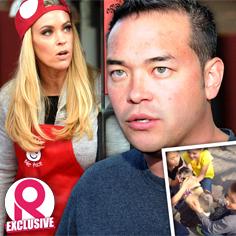 Kate Gosselin has primary custody of the eight children she had with ex-husband, Jon Gosselin, but who's watching the brood while Kate's filming Donald Trump's Celebrity Apprentice in New York City?
It depends who you ask.
While the bodyguard once used to protect and watch over the children has reportedly turned into more of a boy toy for Kate these days, a source close to Jon exclusively tells RadarOnline.com that he's helping out with the children, while another source close to Kate says her estranged ex isn't helping any more than usual and she's had to employ three nannies to help out while she tapes.
Article continues below advertisement
"Jon has the kids for a few days a week. The custody schedule changes all the time, always depending on Kate's schedule," the source told Radar.
"Jon drops them off at the house, and the nanny takes them at the front door. He usually doesn't know if Kate is around or not, and he doesn't know her shooting schedule. She really keeps Jon in the dark about a lot of things. But it's safe to say Kate was not with them last week, because Jon is."
But according to an insider on Team Kate, Jon hasn't stepped up any extra at all while she films the reality TV show and Kate's been forced to foot the expensive nanny bill.
Scorned Exes Tell All: Inside Hollywood's Ugliest Splits
"Kate actually asked Jon to help out more with the kids while she does Celeb Apprentice, but he refused. He only wanted to take them his usual one day a week," the insider told Radar.
Article continues below advertisement
Just last weekend the Gosselin children were spotted in New York City though, presumably to visit their mother while under the care of their nannies.
A passerby walking her pug in Central Park ran into the Gosselin kids over the weekend:
The same woman also tweeted a photo giving props to Kate for being a "good mom."
"Kate has been going back and forth as much as she can between filming to spend time with the kids," the source said.
"The only reason she's even doing Celebrity Apprentice is to make and income to help raise her kids. Having eight children isn't cheap!"
Who do you think should be watching the Gosselin children while Kate's filming? Sound off in the comments below…