Uh Oh! Brandi Glanville Admits Ex-Husband Eddie Cibrian 'Might' Have Overpaid Alimony, But Says 'It's Spent -- We Had To Live!'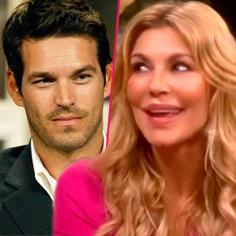 Article continues below advertisement
With unparalleled audacity, Brandi -- in the same sitting -- boasted about the big bucks she's been reeling in since penning two books, including this month's Drinking & Dating: P.S. Social Media Is Ruining Romance. Asked if she was thriving financially, Brandi replied, "A little bit ... my books have been New York Times best sellers, two times in a row, so yeah."
Watch the video on RadarOnline.com
She added she has "no idea" what Cibrian's income is, but thinks the financial request was directly tied to the release of the book, which of course, doesn't paint him or wife LeAnn Rimes in the best light.
"The last time my first book came out, he kind of pulled something similar -- I think he does it just to rattle me a little."
In response to Brandi's appearance, reps for the hunky 40-year-old actor stressed that "there is no truth to the claims that Eddie has requested child support from Brandi now, nor will he ever request child support from his ex-wife.
Article continues below advertisement
"The notion is preposterous. This is yet another ploy for self-promotion."
Continuing to explain the latest chain of events, Eddie's rep said that the money in question was only relevant to "the division of Eddie's retirement plan, something that "was discussed, agreed upon and in place four years ago in 2010 and is now being divided up."
The Craziest & Most Outrageous Celebrity Rumors — What's True, What's Not?
Cibrian's rep labeled Brandi's latest caper as an "attempt to manipulate the truth, which always seems to happen when Brandi has something to promote.
"By now, after all these years of this happening repeatedly, everyone including every media outlet should know not to believe anything Brandi says."