Donald Trump: Rihanna Lied When Calling In Sick For 2011 Charity Show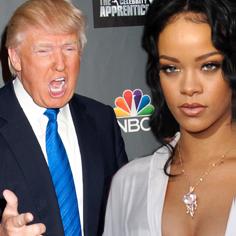 Donald Trump is never one to let a grudge go.
The million-dollar man is still fuming over a three-year-old snub from Rihanna, after the Barbadian beauty canceled a paid appearance at one of his clubs in Feb. 2011, saying she was under-the-weather and unable to perform. (Jennifer Hudson took her spot as a late replacement.)
The only issue was, she took the stage the very next day to perform in the NBA All-Star game, and the pipes sounded just fine! That infuriated the Donald at the time, and it still continues to rankle him in 2014, as the businessman complained to Howard Stern Tuesday about the "Umbrella" singer's no-show.
Article continues below advertisement
Watch the video on RadarOnline.com:
youtube=https://www.youtube.com/watch?v=676plsuMsrM&w=420&h=315
"
She was going to sing for a big cancer institute, it was a big thing … the biggest people were there, the richest people were there, and guess what? She didn't show up because she said she was sick, and the next day she was singing for a NBA game or something," he recalled with a bitter tinge.
At the time, the "Disturbia" singer's rep said that the crooner was on the upswing from a bronchial infection, and getting on a plane to attend the Trump show could have put her vocal chords at serious risk.