Donald Trump Sued By NY State For $40 Million Over 'Deceptive' & 'Fraudulent' Trump University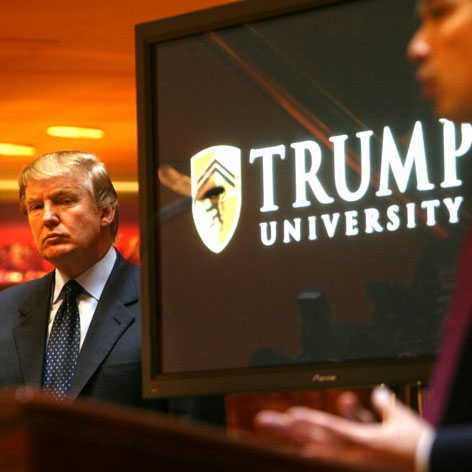 Donald Trump's Trump University isn't a real university and its graduates rarely get what they pay for -- that's the contention of the New York State attorney general who wants The Apprentice host to fork over $40 million in compensation.
"Trump University engaged in deception at every stage of consumers' advancement through costly programs and caused real financial harm," Attorney General Eric Schneiderman said on Saturday. "Trump University, with Donald Trump's knowledge and participation, relied on Trump's name recognition and celebrity status to take advantage of consumers who believed in the Trump brand."
Article continues below advertisement
State Education Department officials made Trump change the name of his enterprise, launched in 2005, because it lacked a license and didn't meet the legal definitions of a university. In 2011 it was renamed the Trump Entrepreneur Institute, reports The New York Post.
According to the new lawsuit, many Trump students were unable to land even one real estate deal after spending thousands on the program. Making matters worse, many students went into debt to pay for the school.
MORE ON:
Celebrity Justice
The lawsuit names Donald Trump as the university chairman, the program itself, and the former president of the university. It accuses them of engaging in persistent fraud, illegal and deceptive conduct and violating federal consumer protection law.
The suit is asking for $40 million, mostly to pay restitution to consumers.
Lawyers for Trump deny any wrongdoing and claim the lawsuit is politically motivated.
"The attorney general has been angry because he felt that Mr. Trump and his various companies should have done much more for him in terms of fundraising," attorney Michael Cohen told the AP. "This entire investigation is politically motivated and it is a tremendous waste of taxpayers' money."