'Crazy Love' Woman Dies, 'Dangerously Obsessed' Hubby Who Blinded Her With Acid, Sobs, 'This Was A Fairy Tale Romance!'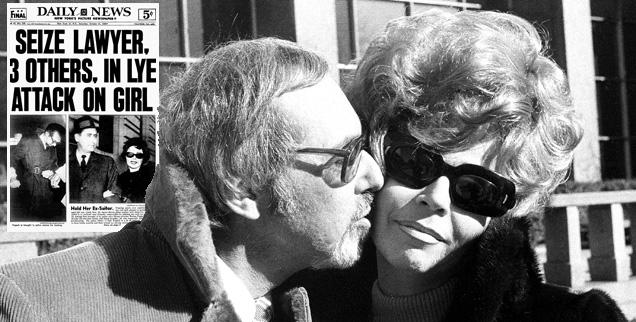 Linda Pugach, the woman who became famous for marrying the man who ordered hit men to throw lye in her eyes permanently blinding her, has died in Queens, New York, RadarOnline.com is reporting.
The 75-year-old, whose unconventional love story was the subject of the hit 2007 documentary Crazy Love, was confirmed to have passed away by husband Burton Pugach at the Long Island Jewish Hospital on Thursday as a result of heart failure.
Article continues below advertisement
Burton, a successful lawyer, was jailed for 14 years after hiring thugs to attack Linda when she spurned his advances. He was married at the time with a daughter but was dangerously obsessed with Linda and the horrific assault became a tabloid sensation in 1959.
After he was released from prison, Burton divorced his first wife and managed to convince Linda to marry him in 1974, proposing to her on live television.
"This was a very fairy tale romance," a sobbing Burton told the Associated Press on Thursday.
In 1997, despite still being wed to Linda, Burton was accused of threatening and harassing another lover after she tried to end their five year affair.
"Haven't you ever threatened to kill your husband? Did you mean it? Of course not. ... This has been blown out of proportion like I've never seen," Burton said at the time.
Article continues below advertisement
During that trial, which Burton was acquitted, Linda testified on his behalf, describing her husband as a good man. Although she did admit that she couldn't have sex with him after undergoing heart surgery in 1990.
"He was a naughty little boy and he was caught," she told reporters as she left the courtroom on Burton's arm.
Burton confirmed that Linda went into hospital on Dec. 26, 2012, two days before they had booked a trip to Florida to buy a property in Boca Raton.
"I don't know how I'm going to go on without her," he said. And he again denied that he was involved in the 1959 attack for which he was convicted.
"If I had told anyone to throw lye at her, would she have married me? A monster does that," he said.
Linda Pugach was being laid to rest in a crypt in Paramus, N.J. on Thursday.
"There's a place for me there. We'll be together," Burton added.
radar_embed service=youtube src="https://www.youtube.com/embed/q8Pt8N9OgtA" width="560" height="315"