Cleveland Women Rescued From House Or Horrors: 7 New Developments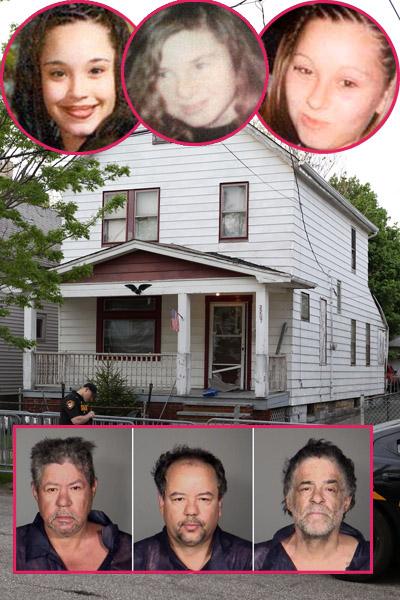 Article continues below advertisement
The 6-year-old girl Berry gave birth to while in captivity is named Jocelyn and was born on Christmas Day, ABC News reported. She's missing a front tooth, and was home schooled by her mother, FBI Special Agent Vicki Anderson told the network.
Cleveland Police Deputy Chief Ed Tomba said Jocelyn "looks great, happy, healthy and ate a popsicle last night," adding that "seeing her mother smile made her smile."
Article continues below advertisement
As we previously reported, Knight had been missing 11 years (since Aug. 23, 2002), Berry 10 (April 21, 2003), and DeJesus nine (April 2, 2004).
radar_embed service=kaltura src="http://cdnapi.kaltura.com/index.php/kwidget/wid/1_b5a0m467/uiconf_id/3775332/st_cache/23472?referer=http://cdnapi.kaltura.com/html5/html5lib/v1.6.12.27i/mwEmbedFrame.php/entry_id/0_cn1770mm/wid/_483511/uiconf_id/3775332?referer=http%3A%2F%2Fabcnews.go.com%2FWNT%2Fvideo%2Fcourage-scream-escape-19128782&flashvars%5BautoPlay%5D=false&addThis_playerSize=392x221&freeWheel_siteSectionId=nws_offsite&closedCaptionActive=false&autoPlay=false&addThis.playerSize=392x221&freeWheel.siteSectionId=nws_offsite&closedCaptionActive=&addThis.playerSize=392x221&closedCaptionsOverPlayer.fontsize=12" width="392" height="221" style="border: 0px solid #ffffff;" value="Unfortunately your browser does not support IFrames."
2. Police Continue Speaking With Brothers; Deadline To Charge Men Extended
The three men police took into custody Tuesday in connection with the kidnappings are homeowner Ariel Castro, 52; and his brothers Pedro Castro, 54; and Onil Castro, 50.
No charges have been filed against the men as of early Wednesday, officials said, noting that the usual 36-hour deadline to charge a suspect was extended to 48 by Administrative Judge Ronald B. Adrine.
Article continues below advertisement
3. 911 Operator Under Fire
The dispatcher who took Amanda Berry's call to 911 will be investigated in his handling of the emergency communication, Cleveland Department of Public Safety Martin L. Flask said in a statement Tuesday.
"While the call-taker complied with policies and procedures which enabled a very fast response by police, we have noted some concerns which will be the focus of our review, including the call-taker's failure to remain on the line with Ms. Berry until police arrived on the scene," Flask said. "Please be assured that this matter will be investigated, and if necessary, appropriate corrective action taken."
While the dispatcher was grilled on social media sites Tuesday for an attitude that was tabbed insensitive, lackadaisical and aloof, Flask pointed out that the worker still put things in motion in less than 90 seconds.
"Within one minute and 18 seconds from the time that the call-taker answered the call our dispatcher was broadcasting the assignment to available police units," Flask said. "As a result of the call-taker's actions, police were dispatched and on scene in less than two minutes."
Article continues below advertisement
4. Hiding In Plain Slight
Suspect Ariel Castro helped search for the women authorities say he's suspected of kidnapping, locals said Tuesday. Castro also attended a 2011 candlelight vigil in their honor, where he comforted the mother of one of the victims.
"When we went out to look for Gina, he helped pass out fliers … you know, he was friends with the family," Khalid Samad, a friend of Gina DeJesus' father, told the AP. He added remembering Castro, a guitarist, played music at a fundraiser for the search efforts.
Neighbor Francisco Cruz remembered Castro's reaction as they watched authorities dig up a yard in search of clues, as he told him, "They're not going to find anyone there."
5. Writing On The Wall?
Another woman's name was written on the wall in the basement of Castro's home, with the inscription R.I.P. (Rest In Peace) next to it, according to Cleveland's Fox 8. The station's Kevin Freeman told Piers Morgan Tuesday, "There's a woman's name which would lead you to believe that another woman was in there at some time."
Article continues below advertisement
As we previously reported, Michelle Knight is believed to be the woman who passed on the details to officials.
6. Missed Opportunity?
Castro's neighbors said on one occasion, they saw three nude women crawling in the backyard with dog collars on their necks, but officials didn't follow up. The whistleblowers, who haven't been identified, said men were leading around the women; and that two hours went by with no response.
Nina Samoylicz told CNN she saw a naked woman in the backyard area of the home in 2011, but authorities brushed off the call as a rib.
"We thought it was funny at first, and then we thought that was weird so we called the cops," Samoylicz said. "They thought we was playing, joking, they didn't believe us."
Samoylicz said the backyard of the home was hidden with tarps shortly thereafter; police in Cleveland said they have no record the call was made.
Article continues below advertisement
SHOCKING PHOTOS: Elizabeth Smart Evidence In Kidnapping Case
7. Survivors Speak Out
Both Jaycee Lee Dugard and Elizabeth Smart sent their support to the women authorities say were held captive for around a decade.
Dugard, who was kidnapped at 11 in 1991 until she was rescued 18 years later with two daughters fathered by her captor, reinforced her message not to abandon hope in finding missing children while speaking in Washington at an awards event for the National Center for Missing and Exploited Children.
"What an amazing time to be talking about hope, with everything that's happening," she said. "Just urge yourself to care."
Dugard's mother Terry Probyn said she related to what the families of the Cleveland women are going through right now.
"I feel the same relief and the same joy that I felt when Jaycee was returned to me safely after 18 hellish years," Probyn said. "I never doubted for one minute that I would someday be reunited with my daughter."
Article continues below advertisement
Smart, who was kidnapped in 2002 and rescued nine months later, told Good Morning America she was "so happy to hear another happy ending," in the case.
"We need to have constant vigilance, constantly keep our eyes open and ears open because miracles do happen," she said.
Noteworthy: Charles Ramsey, the neighbor who helped Berry get free -- and inadvertently gave McDonald's a plug in the call he made to 911, as well as a widely-seen interview afterwards -- was lauded by the fast food giant for his patronage in a tweet Tuesday.
Watch the video on RadarOnline.com
"We salute the courage of Ohio kidnap victims & respect their privacy," the company said. "Way to go Charles Ramsey - we'll be in touch." (We say free Big Macs for life!)